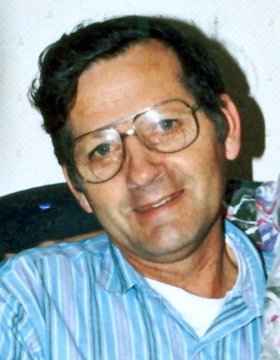 Raymond Edgar Helt
December 4, 1936 - May 11, 2009
Raymond Edgar Helt, 72, died in his Carson, Wash., home on the evening of Monday May 11, 2009. The death was due to complications from Parkinson's and lymphoma, which Ray had battled for many years.
Ray Helt was born Dec. 4, 1936, on the family farm at Lower Carver Creek in Iron County, Mo., to father Thomas Franklin Helt and mother Jesse Edna (Sutton) Helt. Ray was middle of five siblings, four boys and girl. In addition there were three adopted children.
Ray's family moved around — from Missouri to Kansas, Colorado and California. Ultimately, Ray moved back to the farm of his birth in Missouri to be raised by his grandparents, Jesse and Mary Helen (Jordan) Sutton.
His career was one of hard work, which came to be his definition of self, and creed. Leaving schooling behind, Ray worked in the woods with his uncles and neighbors as a teenager, cutting hardwood stave bolts, mine props and timber for railroad ties. He also worked the farm with his grandparents and kept cattle of his own.
Other pursuits included a stint during his early 20s in a California plating shop, and back in Missouri, as a taxi driver, shoe factory worker, school bus driver and owner of a coal delivery business.
In 1971 Ray moved his family to Carson, Wash., and became a shareholder in Stevenson Co-ply, where he worked until retirement.
While living with his grandparents on the farm in Missouri, Ray met his future wife, Eileen Marie Warren. They were married in 1954 and at the time of Ray's death had been married for 54 years. Their love and commitment to each other grew stronger and sweeter as the years passed. Together they had three children.
Ray possessed a quiet wisdom and wry wit which he used to guide his children and grandchildren up to the day of his departure. He and Eileen enjoyed caring for the grandchildren and great-grandchildren. Ray's passing leaves a huge void in the hearts of his loved ones.
Ray Helt is survived by his wife, Eileen Marie Helt; adopted sister, Bibi Lee; brothers Edward Gerard Helt, James Carl Helt and Richard Dale Helt; son, Donald Ray Helt; daughters Deborah Ann (Helt) Young and Darla Marie Helt; nine grandchildren and two great-grandchildren.
A visitation will be held at 11 a.m. May 15. at Gardner Funeral Home, 1270 N. Main St., White Salmon, Wash., 509-493-1323).
Also on May 15, a 2:30 p.m. graveside service will be held at the Berge Cemetery, 172 Berge Cemetery Road, Home Valley, Wash.
The family wishes to extend thanks to all who cared for Ray over the years, such as: Oregon Health and Science University, Celilo Cancer Center, Mid-Columbia Family Health Center, Hospice of the Gorge, and especially to granddaughter Amanda Tanasse for her loving care in the final weeks.