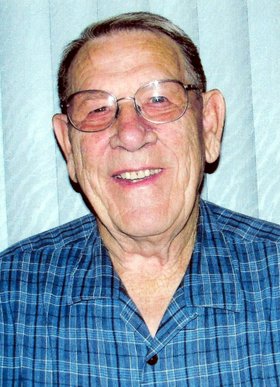 Leonard "Ray" Perkins
unknown - May 4, 2009
Leonard "Ray" Perkins, 78, died peacefully on May 4, 2009, at his home in Yuma, Ariz.
Ray was born and raised in Hood River, Ore., but his career in Public Works took him to Eugene, then on to Gresham where he retired as director of public works in 1992. Ray and his wife, Phyllis, moved to Yuma as permanent residents in 2005.
After graduating from Hood River High School in 1948, Ray joined the U.S. Air Force. He served during the Korean Conflict out of Travis Air Force Base in California. Ray returned to Hood River, where he was active for 17 years in the West Side Fire Department before moving his family to Eugene.
Fishing, camping and the outdoor life was what Ray enjoyed in his free time. Ray was a ham radio operator most of his adult life, a hobby earning him countless ham friends. Upon retiring, he took up playing the violin. He played in "jams" held around Yuma where musicians informally meet and play old, familiar tunes.
Ray was loved by his wife of almost 60 years, Phyllis, who will continue to reside in Yuma; his daughters and their families: Candy, Marty and daughter Natalie of Long Beach, Calif.; Lisa and son Travis of Portland; and Stacie and children Ian and Olivia of Dallas, Texas; and sisters Velma Smith, of Portland, and Billie Morris, of The Dalles.
Ray's best friend of 30 years and "bro," Glen Wright, and his wife Elaine, of Springfield, Ore., share in our grief and loss. All will miss Ray, his wit, and his stories.
Services are scheduled at Willamette National Cemetery in Portland Friday, July 3, at 11 a.m., with all invited to a buffet lunch afterward at the home of his sister, Velma.
In lieu of flowers, the family suggests remembrances to hospice or a charity of your choice.