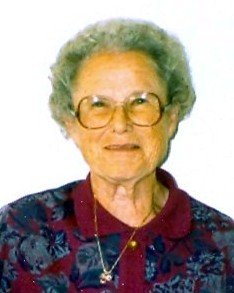 Ruth Emma Aubert
July 19, 1915 - May 19, 2009
Ruth Emma Coleman Aubert, 93, passed away in her sleep Tuesday evening, May 19, 2009. She was born July 19, 1915, in Woodburn, Ore.
As she moved into her elder years, her life was complicated by Parkinson's disease. The last few years she was in the loving care of Anita Allen's foster home in Mt. Hood, which enabled her to stay close to her family, and the land and community that she loved.
After her childhood in Woodburn and graduation from Hubbard High School, Ruth Coleman came to Parkdale to stay with her sister, Margaret Coleman Sigler, who had just moved to the Upper Valley with her husband, Jack Sigler. While attending an indoor baseball game in Parkdale, Ruth met Mt. Hood native George Aubert, who had returned to the area after attending college and was working for the Forest Service.
Ruth and George were married in 1935 and continued working for the Forest Service. Their first child, LaVelle, was born in 1937, and the family spent summers manning the fire watch tower on Lookout Mountain.
The young family lived in Hermiston and The Dalles during the early part of World War II, and in 1943, they returned to Mt. Hood, buying part of the original Zibe Dimmick homestead along Highway 35.
Ruth found that as well as having a sister and family in the upper valley, she had married into a large extended family, and enthusiastically joined in the busy lives of George's parents, Paul and Marie; brothers, Paul and Leslie; and his sister, Helene Halliday, all living in the Mt. Hood/¬ Parkdale area.
Ruth and "Chow" had two more children, Marie and Leonard. The family began planting the orchard which would grow to become George Aubert Orchards, still operated by son Leonard, on Highway 35 in Mt. Hood. Ruth worked alongside Chow to plant fruit trees, grow potatoes while the trees were growing, and also operate the Chevron Service Station in Parkdale during the early '50s.
No one could knead bread like Ruth, she was a wonder to watch; and along with her bread making she was skilled in almost all areas of homemaking: cooking, sewing and food preservation. She loved flowers and berry picking, and working in her gardens.
She became involved in all activities of her children's lives, helping with leadership in Scouts, 4-H, Campfire Girls, music and school volunteer opportunities.
For many years Ruth was involved in the Home Extension Program in the Hood River Valley, working to build active groups in the Upper Valley. She was an expert seamstress and quilter, and enjoyed working with fellow quilters. It has been said that she taught half the kids in Mt. Hood and Parkdale how to knit over her many years as a 4-H leader.
The Parkdale Garden Club was very important to her and she gave many volunteer hours to club activities, especially the "weeding" at the Memorial Garden. She was known to stop joggers going by when she was working in the garden and suggesting that they could get lots of exercise if they would come and help her work in the garden and then it would be beautiful for everyone.
She loved traveling in her later life, and she and Chow were part of one of the first delegations to represent the Valley in Hood River's Sister City in Japan. They traveled with family and friends, mostly to other agricultural areas in the world.
There are many good family memories built around several family road trips to Nebraska to visit "Grandma's" relatives. Her favorite place was Mt. Hood, right at the bottom of Bald Butte, but she also loved the beach and spent many weekends with friends and relatives at her "Chinook" Beach Camp. She loved clamming; the cleaning and cooking as much as the digging.
Ruth was very best at being Mom and Grandma. Her family was always most important and she and Chow spent their older years either hosting or accompanying groups of children and grandchildren, and their friends, at every possibility.
It is in this capacity that she will be missed the most. She could whip up a huge dinner out of practically nothing to serve a hungry group of kids and friends. She could always find another blanket and pillow for one more guest, and she wouldn't miss a play, concert, ball game, graduation, or birthday. If her grandchildren were involved, Grandma and Grandpa were there.
Ruth is survived by her children: Leonard and Karen Aubert, of Mt. Hood, Marie Pickering, of Parkdale, and LaVelle and Frank Pellegrino of Modesto, Calif.; grandchildren Paul and Lindsey Aubert, of Mt. Hood, Jolene Aubert, of Spokane, Wash., Brad and Stephanie Pickering, of Parkdale, Greg and Nicole Pickering, of Tualatin, Kurt Pellegrino of Modesto, Calif., and Kraig Pellegrino, of Reno, Nev
Also surviving are great-grandchildren Jess Aubert, of Mt. Hood, Wade and Anna Pickering, of Parkdale, Taylor and Liam Pickering, of Tualatin, Tim and Marissa Pellegrino of Reno, Nev., Alexandria Pellegrino, of Los Angeles, Calif., and Sean and Scott Pellegrino, of Modesto, Calif.
Ruth is also survived by two sisters, Mildred Bloom and Arlene Hammond, of Woodburn, Ore.; and her sister-in-law, Alene Aubert, of Vancouver, and their families. Also surviving in the Gorge area are nieces and nephews: the Halliday and Fraunfelder families, and Paul Blumenstein and his family. Many families will miss Aunt Ruth.
Ruth was preceded in death by her husband of 66 years, George "Chow" Aubert, in 2001, and son-in-law, Bruce Pickering, in 1996.
A memorial service is planned for early August.
Contributions in Ruth's memory may be made to the Parkdale Garden Club for maintenance of the Parkdale Memorial Garden and sent care of Anderson's.
Arrangements are under the direction of Anderson's Tribute Center (Funerals, Receptions, Cremations), 1401 Belmont Ave., Hood River, OR 97031; 541-386-1000. Please visit www.andersonstributecenter.com to sign the family guest book.