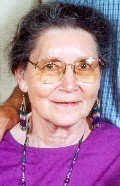 Shirley K. Williams
June 23, 1934 - October 28, 2009
Shirley K. Williams, 75, was born in Imperial, Calif., on June 23, 1934, and passed from this life on Oct. 28, 2009. Thank you to Heart of Hospice for the magnificent care you provided.
Her family moved from California when she was 12. They moved to Odell because there was a Church of Christ where she attended until her health would not allow it any longer.
Shirley and Arlen were high school sweethearts and were four days short of their 57th wedding anniversary.
Shirley had a quiet, patient, quick to smile, loving heart. She was a homemaker in every way, growing vegetables, canning, and freezing to provide for her family.
She also had a love of working with her hands, through quilting, embroidery or anything new she could learn. She won "Homemaker of the Year" at the county fair and "The Road to California" for her sewing creations. Her quilts and wall hangings were often admired.
Shirley quilted on Mondays, bowled on Tuesdays and Thursdays, golfed on Wednesdays, wove on Fridays and went to church on Sundays. In between she could be found at her sewing machine making a quilt for one of her family members.
She also spent plenty of time on the bleachers watching one of her children or grandchildren playing sports. She loved watching the boys run for touchdowns. "Go, Jacob, Go!" you may have heard her cheer.
Her priority was her family, spending time with them and friends hiking, camping, canoeing, sailing, and picnicking. Her home was always open for a meal or a place to stay. Arlen never knew when she would drag someone home for dinner after church. She loved having company.
She lived with Alzheimer's for many years, but she still always had a good laugh and wonderful disposition. She lived her life with unwavering faith. She never questioned whether there was a God who sacrificed his son to die for us.
Shirley was preceded in death by one of her brothers, and her son James.
She leaves behind her husband, Arlen; daughters and their husbands: Marva and Jeff Brittan, of Seattle, Wash., and Julie and Sean Bohince, of Odell; son and his wife, Mark and Jan Williams, of Odell; daughter-in-law Betty Williams; and nine grandchildren and four great-grandchildren. Her sisters, Norma Curtis, of Hood River, and Mary Neville, of Odell, and brother, Tom Wright, of Gresham, also survive.
A celebration of her life will be held at 11 a.m. Nov. 7 at the Hood River Alliance Church. A potluck reception will follow. If you can attend the family invites you to wear something purple.
Please make donations to Heart of Hospice or The Alzheimer's Foundation in care of Anderson's Tribute Center (Funerals, Receptions, Cremations), 1401 Belmont Ave., Hood River, OR 97031; 541-386-1000. Please visit www.andersonstributecenter.com to leave a condolence note for the family.