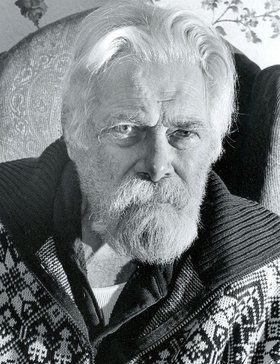 Arnold Zweerts
November 29, 1918 - November 6, 2009
Arnold Zweerts passed peacefully into his next life with his loving family and friends by his side on Nov. 6, 2009. He was born Nov. 29, 1918, in Bussum, Netherlands, to Jan and Luise Marie (Hoette) Zweerts.
Arnold's father was a cigar manufacturer in Amsterdam and his grandfather was a master brewer at Heinekens in Rotterdam.
Arnold studied art in Amsterdam, Denmark, Ravenna, Italy, United States and Mexico.
Arnold is a survivor of World War II German work camps near Dresden, where he was forced to make boots for the Germany army. The forced laborers pounded the nails into the boots too far in an effort to cripple the Wehrmacht.
Arnold met Julia Anne Brownfoot while teaching in England. They were married on April 7, 1953, in Kew Gardens, Surrey, England. They moved to Amsterdam in June, where Arnold worked at the Rijks Museum. In 1955 their first son (Jan) was born on March 29.
Arnold and Julia immigrated to the United States after hearing radio ads and ended up in Joliet, Ill. (On his application he wrote Hollywood or New York.) Arnold worked in a greeting card factory and loved to play pranks on his fellow workers and boss.
On Jan. 1, 1958, their second son was born (Philip) and Arnold started teaching figure drawing at the Art Institute in Chicago. They moved to Chicago the following year, where Arnold had a studio at the Contemporary Arts Workshop which was a hotbed for artists in the 1960s.
The year 1962 brought the birth of their last child (Judi). In 1963 they moved back to Bussum for a year, where Arnold taught grade school children art.
The year 1965 brought them back to the United States where they purchased a home in Downers Grove, Ill. Arnold resumed teaching at the Art Institute. He also started teaching part-time at Loyola University.
Arnold received his Master of Fine Arts degree in 1972 at the Instituto Allende in San Miguel De Allende, Mexico. The year 1975 found them moving to an old schoolhouse in Postville, Wis., a small town of about 20. There he enjoyed painting the beautiful rolling hills.
In 1985 they once again packed up and moved to Corbett, Ore., where they lived for a year before finally settling in nearby Hood River in 1986.
Over the years Arnold and his family visited many destinations across the U.S., Mexico, Canada, Bahamas, England, Netherlands, Italy and Venice. In his younger years he loved to sail, hike, bike, camp and ice skate. He had many friends with whom he kept in contact from over the world by writing letters daily.
Arnold left behind a legacy of mosaics, oil paintings, woodcuts, charcoal, pastels, pen and inks and pencil drawings across the world. Through the years his artwork was exhibited and attracted patrons too numerous to list. He continued to paint daily until his last days.
Arnold always loved a good joke, partying, great food and wine. He will be missed by his loving wife, family and friends.
He is survived by his wife, Julia Zweerts (Brownfoot), Hood River, Ore.; children Jan Zweerts (Rae Casey Zweerts), Portland, Ore.; Philip Zweerts (Rachael Tadyish), Postville Wis.; Judi Kane (Curt Kane), Hood River; sister Lies Zweerts, Huizen, Netherlands; cousin Merele Rowles, Durban, South Africa; grandchildren Amber Kuebli, Monroe, Wis., Josh Penniston, Argyle Wis., Sadie Kane, Portland, Ore., Richard Kane, Hood River, and Sam Zweerts, Postville, Wis.; and great-grandson Deacon Kuebli, Monroe, Wis.
He was preceded in death by his parents, Jan and Luise Zweerts; sister Loets Zweerts; and cousin, Hedley Rowles.
A celebration of his life will be held at the Columbia Center for the Arts in Hood River on Dec. 5 from 3-6 p.m. Bring stories or photos you wish to share.
Donations to Hospice of the Gorge are appreciated. It is with their help that Arnold was able to pass peacefully at home and with dignity. Thank you, Hospice.
Arrangements are under the direction of Anderson's Tribute Center (Funerals, Receptions, Cremations), 1401 Belmont Ave., Hood River, OR 97031; 541-386-1000. Please visit www.andersonstributecenter.com to sign the family guest book.