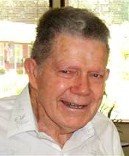 Frank Edward Ward
August 7, 1913 - November 4, 2009
Frank Edward Ward, born Aug. 7, 1913, in Glenwood, Wash., to Timothy J. Ward and Rosa F. (Kuhnhausen) Ward (Surface), died on Wednesday, Nov. 4, 2009, in Gresham, Ore.
His family was the love of his life. He was a devoted and loving husband to LuEllen Bertschi (1936-2001) and to Hazel Beyerle (2004 to present). Soon after LuEllen and Frank were married in 1936, their home was the first to have electricity turned on by the Klickitat County REA in the Glenwood Valley.
Frank, LuEllen and their children, Darold and Juanita, drove the highway to Alaska in 1948. This love of travel and adventure took Frank and his family to many places worldwide.
Frank and Hazel had many trips together, exemplified by their trip to Ireland in 2006.
Frank, a graduate of Glenwood High School, attended Washington State University for one year in 1931. Later, Frank worked for J. Neils Lumber Company as a mechanic and shovel operator. He started the first Grade A Dairy in the Glenwood Valley.
After leaving the dairy farm in 1956, Frank worked in Goldendale in the county assessor's office and as office manager of the Agricultural Stabilization and Conservation Office.
In 1958, he and LuEllen returned to school and both graduated from Western Washington State University with degrees in education. After graduation they moved to The Dalles, Ore., where he taught mathematics and science at The Dalles Junior High School from 1962-1968.
Frank was the recipient of a National Science Foundation Grant for continuing education at Pennsylvania State University and at the University of Maryland. After completing these programs, he resumed teaching in the Dufur High School where he was named Teacher of the Year and retired in 1977.
Frank and LuEllen returned to Glenwood where they built their retirement home along Bird Creek on the Home Place. In 1997 they moved to a retirement community in Gresham, Ore.
Frank gave freely of his time and talents. He was an Elder in the Presbyterian Church and a leader in renovating the Pioneer Memorial Church in Glenwood.
He served multiple terms as a member of the Glenwood School Board and was a member of Glenwood Grange No. 94 for more than 65 years (serving as Master and as co-chairman of the building committee) and a member of the Masonic Lodge.
He is survived by two children, Dr. Darold Ward and his wife, Janet, of White Salmon and Sue Atkins and her husband, Alan, of San Angelo, Texas; five grandchildren: Lenda Goodpastor (Mike), Lenette Wilson, Gareth Ward (Alane'), Crystal Pele (Mino) and Tamra Roberts (Bret); and 11 great-grandchildren.
Along with his wife, Hazel Beyerle Ward, he is survived by her four children: Adrian Beyerle, Barbara Stehlik, Beverly Smith and Robert Beyerle.
Frank was preceded in death by his parents, wife LuEllen, daughter Juanita Rolph and three grandchildren: Laurie Ann Rolph, Timothy P. Ward and Nicholas J. Atkins.
A celebration of Frank's life will be Saturday, Nov. 14, at 11 a.m. at the White Salmon United Methodist Church. A potluck dinner will follow at the church.
Burial will be at the Mount Adams Cemetery in Glenwood, Wash. Gardner Funeral Home is handling arrangements.
In lieu of flowers, donations may be made to the Shriners Hospital or the hospice of your choice. The family is grateful to the Sunshine Adult Foster Care Home in Gresham, Ore., and to personnel of the Adventist Hospice Care organization over the last months of Frank's life.