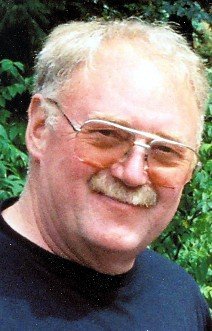 Kenneth Lee Moe
November 18, 1943 - November 9, 2009
Kenneth Lee Moe, 65, passed away Nov. 9, 2009, at his Parkdale, Ore., residence, following a three-year battle with brain cancer.
Services with military honors were held on Friday, Nov. 13, at Anderson's Tribute Center in Hood River. Private interment will be at Idlewilde Cemetery.
Kenneth was born Nov. 18, 1943, in Los Angeles, Calif., to Virginia Casper (Treece). He was raised in Anna, Ill., by Virginia and Robert Casper.
In 1961 he entered the U.S. Air Force, stationed at Luke Air Force Base in Glendale, Ariz. Ken served for eight years, committing a year in Thailand during the Vietnam War.
On Jan. 16, 1965, he married the love of his life, Jonny Myers. He moved to Oregon in 1970, settling in the Hood River Valley.
Ken began work at Diamond Fruit Company as a refrigeration technician, eventually entering an electrical apprenticeship. He then served with the U.S. Army Corps of Engineers in 1977, retiring in 1998 as a relay craftsman at The Dalles/John Day/Willow Creek Project.
He was a Mason for the order of Freemasonry, achieving the third degree Master Mason, as well as a past master at the Hood River local order #105.
Kenneth had a great passion for classic cars, joining the Hood River Ring Kings, while building a wealth of friends and companions.
He is survived by his wife of 44 years, Jonny; son Chance; mother Virginia; brother Kent Casper; sister Karen Gleeson; and two grandchildren with Tina Moe.
Remembrances may be made to Hospice of the Gorge or the Parkdale Fire Department in care of Anderson's Tribute Center (Funerals, Receptions, Cremations), 1401 Belmont Ave., Hood River, OR 97031; 541-386-1000. Both organizations greatly assisted Kenneth and his family during this time.
This amazing man will be sorely missed by all, especially by his grandchildren as they were the sparkle in his eye.
Please visit www.andersonstributecenter.com to leave a condolence note for the family.
The Lord could see that
he was tired,
A cure was not to be,
So He wrapped his arms around him, and said,
"Come with me."
— ANON