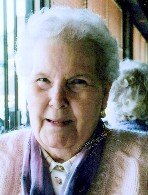 Anne Eve Haisman
September 30, 1919 - November 7, 2009
Anne Eve Haisman was born Sept. 30, 1919. Anne lived in Philadelphia Pa., in Southern and Northern California and then for 30 years in Hood River.
One of her favorite jobs as a young woman was runway modeling; she told the family when her two sons were boys they joined her, dressed in suits, on the runway.
Anne enjoyed researching the antiques she and her husband, Charles, collected, annual trips to Tioga Pass and everything to do with being outdoors. She loved animals and always had a kitty or doggie in her life.
In her later years, Anne helped with reading at a local elementary school. She endearingly spoke about her experiences with these children — this experience was truly a gift to her.
Anne spent her 90th birthday happily celebrating with family and friends, outdoors under a canopy of trees in Hood River.
Anne died in Portland, Ore., on Nov. 7, 2009. She is survived by her husband, Charles Haisman, of Hood River; sons Anthony Haisman, of Fullerton, Calif., and Steve Haisman, of Portland, Ore.; two granddaughters and three great-granddaughters.