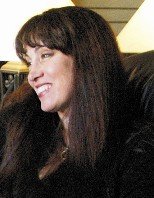 Danielle Elizabeth Collins
March 7, 1963 - November 11, 2009
Danielle Elizabeth Collins, 46, formerly of the Hood River, Ore., area, died Nov. 11, 2009, of respiratory failure at Southwest Medical Center in Vancouver, Wash.
Danielle died from complications of hematomacrosis that she had dealt with the past few years.
She was born March 7, 1963, in Oklahoma. She lived in the Gorge area the past 10 years.
Danielle graduated from Beverly Hills High School and attended University of California at San Diego. She married David McCune and moved to Husum, Wash., after retiring from Microsoft as a test engineer in 1999.
They founded the Hood River Wine Bar at 110 Third St. in Hood River in 2002. Danielle founded Hood River Wine Bar Gourmet Foods, marketing her olive tapenade recipe which was sold throughout the country.
She later was co-founder of Imagine Design Works in Stevenson, Wash.
Danielle loved cooking, gardening, birds and her beloved dogs, Merlot and Chablis. She was continually seeking to find the God within.
She touched many lives by sharing her optimism and enthusiasm.
Danielle is survived by her father, Ewel Collins, of England and Oklahoma; and mother, Donias Lee, of Virginia; brother Aaron Collins Lee, of Virginia; and sister Dionne Collins Lee, of Virginia.
No formal service will be held. Danielle will be buried on a family plot in Oklahoma.
On Dec. 6 from 2-5 p.m. there will be a gathering in memory of Danielle at the Pines Tasting Room in Hood River. Cards and condolences will be collected at the gathering and forwarded to Danielle's family.
If you would like to, bring a dish to share.