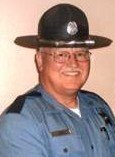 Allan "Butch" L. Muhs
March 17, 1954 - September 27, 2009
Allan L. "Butch" Muhs was born on March 17, 1954, in Hood River, Ore., to parents Marvel and Helen Cochran Muhs. He died on Sept. 27, 2009, at his home in Hermiston, Ore., at the age of 55 years.
Butch was raised and attended school in Hood River, Ore., graduating in 1972 from Hood River Valley High School. He was united in marriage to Sherry Pegg on Aug. 11, 1973, in Hood River.
Butch worked at DeHart Market as a manager in The Dalles, Ore., until 1984. He then joined the Oregon State Police and moved his family to Hermiston, where he has lived since. He was currently serving as a sergeant in the Oregon State Police.
Butch attended the New Hope Community Church in Hermiston. He loved his grandchildren and spending time with them, and enjoyed cooking, baking, oil painting and working in his yard.
He is survived by his wife, Sherry Muhs, of Hermiston; daughters Melia Wadkins, of Hermiston, and Kathy Carranza, of College Place, Wash.; son, Aaron Muhs, of Portland, Ore.; mother, Helen Muhs, of Hood River; sisters Barbara Ellingson, of Hood River, and Kim Fisher, of Portland, Ore.; and five grandchildren: Emily, Katelyn, Noah, Elliott and Emmerson.
Butch was preceded in death by his father, Marvel Muhs.
Funeral services will be held on Friday, Oct. 2, at 11 a.m. at the New Hope Community Church, 1350 S. Highway 395, Hermiston.
Burns Mortuary of Hermiston, Ore., is in charge of arrangements.