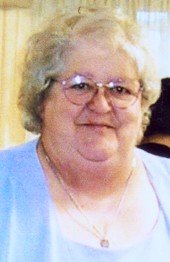 Carol Arlene Heiserman
November 6, 1935 - September 16, 2009
There once was a woman called Carol. She was a hard-working woman who, through her love for her family, did what she could to keep them fed, clothed and sheltered.
After a rich, long life and a battle with lung cancer, on the morning of Sept. 16, 2009, she was promoted to glory to spend eternity with her Lord and Savior, Jesus Christ. That morning He reached down, grasped her hand and said, "Carol, my child, you have been a good and faithful servant. You have fought a good fight with no cure in sight. You have run the race; it's time to come home."
On Nov. 6, 1935, Carol Arlene Carson was born into the family of Clifford and Agnes Carson in Prineville, Ore. Life in the Depression was challenging, and at the tender age of 10, she lost her hearing for a year due to a hole in her eardrum. In 1948, the family survived the "Vanport Flood."
As a young lady, Carol worked in drugstores, learned to be a short-order cook, waitressed and took tickets in a movie theater. While helping her sister cook and clean in the Hannah, Wyo., coal mines, Carol was blessed with a son, Dale Keith Young.
In 1955 Carol met and married Lloyd Howard Heiserman. In 1956 they were blessed with a daughter, Diana Lynn, and in 1957 saw the blessed arrival of Susan Lea.
The year 1958 brought their son, Larry Lee, whom the Lord took home 49 days later. He was soon followed four months later by Carol's father, Clifford. At that time her mother, Agnes, moved in with Carol and the family, where she was cared for until her death in 1972.
During these trying times the family worked as sharecroppers and followed the crops through several states. While living in California Carol became the foreman of a cattle ranch and, being the hard worker that she was, she eventually worked herself out of a job.
Moving back to Oregon, Carol divorced Lloyd and became a single parent. She continued to care for her children and her mother while working as a hotel maid and then a factory worker for Tektronix. She was proud to say that all three of her children graduated high school.
In 1985, while living in Portland, Carol took early retirement from Tektronix to become the caregiver for Susan following her stroke, suffered as a result of a mugging. In 1990 Carol and Susan started their venture down the Columbia River Gorge and moved to Corbett; 1995 saw a move to Dodson where, six months later, the landslide came down the mountain.
In 2003, Carol was honored to watch Susan marry Robert and move in with her. Then her other daughter, Diana, moved back home.
Six months later Carol became the foster parent to her two granddaughters, Melissa and Ashley Young. She was proud of them and was able to see them graduate from high school, spread their wings, move on to their next steps of growing and move into their first apartments.
During her years in Dodson, she attended and joined the Cascade Locks Community Church. She also became a member of the Columbia Gorge Lions Club. She would assist when and where her health permitted.
Carol became a breast cancer survivor in 2005 and 2006.
She loved animals, watching movies of all kinds, jigsaw puzzles and fill-in books. She was known as a good crocheter and loved to watch storms. Her favorite saying was "ka-ching, ka-ching," due to her love for casino runs and the call of the machines.
Carol is survived by her son, Dale Keith Young; her daughters, Diana Lynn Heiserman and Susan Lea Lillegard and her husband, Robert; grandchildren Brian Young, Christina Young, Shawn (Randlyn) Young, Melissa Young and Ashley Young; and great-grandchildren Alena Young and soon-to-arrive Axel Young.
Special bonds were cemented between Dan and Judie Lillegard, Robert's parents; Barbara Tolliver, Brenda Hussey and Barbara Hussey. Carol also has several nephews and nieces. In addition she left behind her "babies," her cats.
She was preceded in death by her parents, Clifford and Agnes Carson; her son, Larry Heiserman; and her sisters: Bessie Gittings, Donna Crombie and Corrine Swanson.
A celebration of life was held Friday, Oct. 2, at Cascade Locks Community Church. In lieu of flowers, remembrances may be made to "Suzi's mom's Memorial Fund" at any 1st Independence Bank.
Gardner Funeral Home handled cremation arrangements.