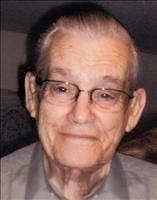 John McCarty
November 11, 1924 - October 1, 2009
The Rev. John McCarty, 84, of Dryad, Wash., went to be with Jesus Thursday, Oct. 1, 2009.
He was born in Watts, Calif., on Nov. 11, 1924. At the age of 8 his mother passed away and he went to the McKinley Home for Boys in Hollywood, Calif., until the age of 16 when he was on his own.
John became a hard-rock miner and traveled across California, in various jobs. He married Alice E. Riggins on June 20, 1948, and they have been happily married for 61 years.
John's greatest achievement in life was in 1956 when he accepted Jesus as his personal Savior. Reverend John McCarty became a minister in 1956 and devoted his life to the cause of Christ.
John is survived by his wife, Alice McCarty, of Dryad, Wash.; five sons: Patrick (Sandi) McCarty, of Pe Ell, Wash., John (Lou) McCarty, of Hood River, Ore., Danny (Donita) McCarty, of Doty, Wash., Tim (Terri) McCarty, of Clarkston, Wash., and Alan McCarty, of Dryad, Wash.; two daughters: Debbie (Bob) Putnam, of Phoenix, Ariz., and Becky (Rob) Thornton, of Doty, Wash.
He is also survived by 22 grandchildren, 41 great-grandchildren, one great-great-grandchild and numerous nieces and nephews. John is also survived by two brothers, Winston (June) Selwin, of Folsom, Calif., and Pat (Joan) Bowers, of Santa Ana, Calif.; and a sister, Margaret Kerry, of Glendale, Calif.
He is preceded in death by two daughters, Victoria Stamper and Diane Kruze, and a brother, Tom McCarty.
A memorial service will be held at New Harvest Assembly of God in Pe Ell, Wash., at 2 p.m. Monday, Oct. 5.
Memorial contributions may be made to the Pe Ell Ambulance Fund in care of Anderson's Tribute Center (Funerals, Receptions, Cremations), 1401 Belmont Ave., Hood River, OR 97031; 541-386-1000; www.andersonstributecenter.com.