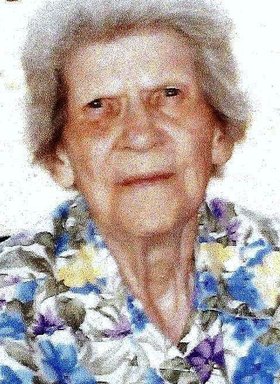 Eloise Beebe Vosburg
January 24, 1917 - October 11, 2009
Eloise Beebe M. Vosburg was born in Oregon City, Ore., on Jan. 24, 1917, to Oscar and Leeta (Edmunston) Minor. Eloise passed away in Tillamook, Ore., on Oct. 11, 2009, at the age of 92.
As a child Eloise moved to wherever her father could find work in the logging business. She attended school in Oregon City and finally settled in Hood River, Ore. She worked at the hospital in the dietary department.
Eloise was very active in the World Wide Church of God, and in the Hood River senior center. She held a church Bible study at her home, and loved to crochet, sew and listen to the radio.
Eloise always kept her family close by, and loved spending time with them.
She was preceded in death by her parents; daughter Dona Buchanan; brothers Ken, Harold, Raymond and Alvin; and by her sister, Evelyn Judd. Eloise is also preceded in death by her husbands Loyd Beebe and Cecil Vosburg.
Eloise leaves behind to honor her life: children Lloyd Beebe and his wife, Juanita, of The Dalles, Ore., Amelia Bush, of White Salmon, Wash., and Jerry Beebe and his wife, Sherry, of Tillamook, Ore.; and numerous grandchildren and great-grandchildren.
A graveside service will be held for Eloise on Oct. 16 at 11 a.m. at the Mountain View Cemetery in Hood River. Those who wish to make memorial contributions in Eloise's name may do so to the Multiple Sclerosis Society.
Arrangements are under the direction of Waud's Funeral Home, 1414 Third St., Tillamook, OR 97141; 503-842-7557.