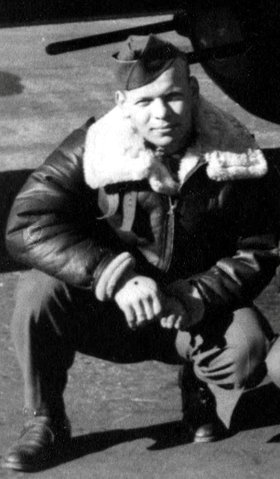 Harold "Stubby" William Kanable
September 13, 1922 - October 8, 2009
Harold William Kanable, 87, passed peacefully Oct. 8, 2009, at his home in Boring, Ore., in the presence of his family.
Harold (Stubby) was born Sept. 13, 1922, in Fargo, N.D., to John and Marie (Jerke) Kanable. He moved with his family to Hood River, Ore., in 1939, where he worked at Eby's Food Store until he was drafted in December 1942. He wed Dorothy Lucile Buck on July 4, 1942.
Upon his induction to the Army he trained and was place in the Army Air Corp as a ball turret gunner on the a B-17 bomber. He flew 30 missions over Europe as an aerial gunner and received an Air Medal, three Oak Leaf Clusters and the Distinguished Flying Cross. He returned to Walla Walla, Wash., as a staff sergeant technical instructor until the end of World War II.
After the war he returned to Hood River with his family and resumed his employment. In 1952 he joined R.P. Matthew Distributing in The Dalles, where he was employed as a driver salesman until his retirement in 1984.
His hobbies included softball, bowling, golf and crafting. Harold hit two holes-in-one at the Hood River Golf Course. He and Dorothy enjoyed 20 winters in sunny Arizona. In 1998 they moved to Boring, Ore.
Harold was a loving son, brother, husband, father, grandfather, and great-grandfather. He is survived by Dorothy, his wife and companion of 67 years; his five children: Judy, Robert, Linda, William and Edward; 10 grandchildren; seven great-grandchildren; his sister, Evelyn; and many nieces and nephews.
He is preceded in death by his sisters Alma and Virginia.
A memorial service will be held Saturday, Oct. 17, at 1:30 p.m. at the Community Presbyterian Church of Sandy, 39290 Scenic, Sandy, Ore. A private interment is scheduled at Willamette National Cemetery on Oct. 19.
Remembrance contributions can be made to the Community Presbyterian Church of Sandy or Mt. Hood Hospice, Sandy, Ore.
Arrangements are under the direction of Sandy Funeral Home, P.O. box 41, Sandy, OR 97055; 503-668-6015.