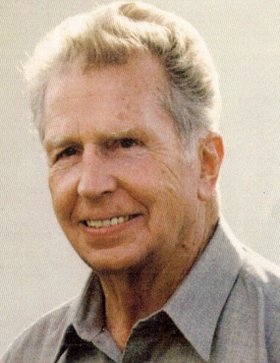 James W. Wilkinson
November 29, 1918 - October 7, 2009
James W. Wilkinson was born Nov. 29, 1918, in Salt Lake City, Utah, to Joseph and Junetta Hansen Wilkinson. He passed away on Oct. 7, 2009, in Mesa, Ariz. A private graveside service with military honors was held Oct. 10, 2009. The United States flag was presented to his daughter Joan.
Jim served proudly in the U.S. Army during World War II as a financial officer while stationed in London. He began his career with Chevron Oil Company in 1946 in Hood River, Ore.
Jim married Betty Collins and was devoted to her for 59 years. He retired from Chevron Oil in 1976 as vice president of marketing. He and Betty lived in Mesa, Ariz., after their retirement. She preceded him in death on Dec. 19, 2003.
A loving and devoted father, Jim is survived by sons John and daughter-in-law Pam, Jim and daughter-in-law Sharon, and Dan and daughter-in-law Linda; and daughter Joan and son-in-law Matt Thompson. Son Tom preceded his parents in death in 2003.
Jim was a loving grandfather of 15, and great grandfather of 24. He is survived by his brother-in-law Charles "Bud" Collins, of Hood River; nieces Leslie Collins Hidle, of Hood River, Susan Collins Stebner, of Tigard, Ore., and Carol Collins Pajala, of Battle Ground, Wash.
Jim enjoyed traveling, visiting Hood River, Lost Lake and the Oregon coast and driving his convertible. He also enjoyed completing family search indexing and completed over 100,000 names. He was a lifelong member of The Church of Jesus Christ of Latter-day Saints.
In lieu of flowers donations can be made to the LDS Church Missionary Fund.