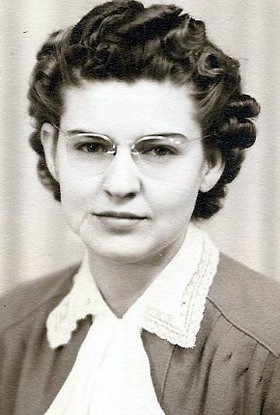 Bessie Ancinec Sisson
December 29, 1920 - October 15, 2009
Bessie Ancinec Sisson passed away peacefully in her sleep Thursday, Oct. 15, 2009, in Rockville, Md., after a lengthy illness. She was 88 years old.
She was born Bozena Ancincova (Ancinec) on Dec. 29, 1920, at Red Ranger, Texas, the firstborn of Josef Ancinec and Rose Dusek. She lived most of her early life in Bell County, but the family would move to Lamb County, Texas, in 1935.
Bessie graduated from Littlefield High School in 1941 and soon after became employed at the Lubbock Regional Recruiting Station as a clerk-typist and bookkeeper at the beginning of World War II.
Bessie married her sweetheart, Lawson Gaines Sisson, whom everyone called "Cotton," on Oct. 9, 1943, just before his shipping out to England. He would soon find himself on Omaha Beach for the Normandy Invasion and a few months later in the Ardennes Forest during the Battle of the Bulge. They moved to the Hood River Valley in 1947 and lived on Dee Flat for more than 30 years.
Since her family emigrated from former Czechoslovakia to Texas, Bessie grew up speaking, reading and writing Czech as well as English, and her culture and family were very central to her lifestyle and beliefs. She was an avid reader throughout her life, and a genealogist and writer as well.
In 1996, her book, "Our Czech-ered Past," an account of the life and times of her family, was published. It was the fulfillment of a lifelong dream.
Bessie had a passion for knowledge and education, and was active in many public and private progressive causes. Among her favorites were Emily's List, Disabled American Veterans and Defenders of Wildlife.
She has one surviving brother, Josef, and three surviving sisters, Dorothy (Broersma), Rose (Thurman) and Olga (Harkey). She is predeceased by her brother Stanley and sister Mary (Hanks Monahan).
She leaves behind two daughters, Paula Sisson Akbar (Michael) of Cabin John, Md., and Kathleen Boyd (James), of Steilacoom, Wash.; two granddaughters, Andrea DeAlto (James) and Sheri Kiefer; one grandson, Jason Kiefer; and numerous beloved nieces and nephews.
The family wishes to specially thank Dr. Gary Raffel for his loving care and kindness, and our good friend and honorary sister Cynthia Saiah, for all they have done for our mother and our family.
In lieu of flowers, the family requests that generous donations be given to Defenders of Wildlife, www.savewolves.org. Her remains will be interred with her husband, Lawson Gaines "Cotton" Sisson at Willamette National Cemetery in Portland, Ore., at a later date.