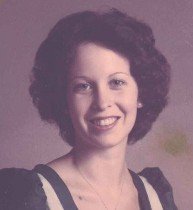 Nancy Louise Davis
October 28, 1957 - October 26, 2009
Nancy Louise Davis, daughter to Carroll and Lorraine (Worley) Davis, of Hood River, Ore., passed away at a Portland care home with family by her side on Oct. 26, 2009, two days shy of her 52nd birthday.
Nancy grew up in Hood River Valley. She went to Pine Grove Elementary, Mid Valley Junior High School and Hood River Valley High School (Class of 1975). She lived on Eastside Road in Pine Grove until she left for college.
Nancy started her life in the Bay Area of California. She was born in Berkeley, Calif., on Oct. 28, 1957, while her mother, Lorraine Worley Davis, and father, Carroll Davis, were students at the University of California. She had lived with her family for five years in Pleasant Hill, when her brother, Bob, was born. After three more years (in Berkeley), the family moved to Hood River County in 1966.
Nancy's family were outdoor people, so this was part of Nancy's life. She was interested in horses and riding. She progressed from a pony to a spirited horse, learning to ride under the guidance of Marge Raasch, leader of the 4-H group, Gilhouley Gauchos.
Later she spent part of a summer and fall as a range rider in Fish Lake Valley, Nev., near where her brother attended Deep Springs College.
Nancy also learned basic mountaineering skills and hiked, backpacked and climbed with friends and family. Along with two friends, she began the first HRVHS girls cross-country team; because this predated Title IX, they competed with the boys.
Nancy was a talented writer, musician, artist and actress. She wrote insightful, musical poetry and produced oil paintings and jewelry. She played the flute and enjoyed ballet past her high school years. She had lead roles in several drama productions at HRVHS.
She attended Mount Hood Community college, Portland State University, Western Washington University and the University of Oregon. She planned to finish an undergraduate degree and pursue graduate studies in comparative literature at the University of California in the early 1980s.
Nancy was diagnosed with malignant multiple sclerosis in early summer, 1982. The disease rapidly decimated her motor functions. She was unable to walk within three months of its onset. Her speech was also affected significantly; eventually so much that she could only communicate verbally with great difficulty.
Still, her wit and interest in the world continued. She was able to maintain correspondence through use of a computer and enjoyed regular visits in her room at Friendship Holgate Center (Portland). Until the last few years, she periodically was taken by her parents to her childhood home for weekend and holiday visits.
Nancy's family wishes to express heartfelt appreciation to her friends who have kept in touch and to the staff of Friendship Center.
Services will be held on Monday, Nov. 2, at 11 a.m. at Anderson's Tribute Center.
Interment will follow at Pine Grove Butte Cemetery.
Arrangements are under the direction of Anderson's Tribute Center (Funerals, Receptions, Cremations), 1401 Belmont Ave., Hood River, OR 97031; 541-386-1000. Please visit www.andersonstributecenter.com to leave a condolence note for the family.