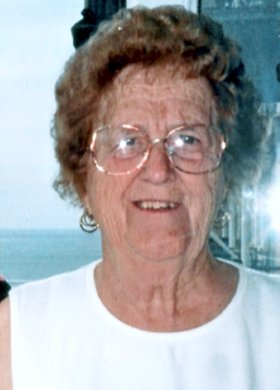 Freda Opal Holtman
June 18, 1932 - September 2, 2009
Freda Opal Holtman passed away on Sept. 2, 2009, in Hood River, Ore., at the age of 77. She was born June 18, 1932, in Willard, Wash., to Fred and Opal (Brown) Grunke.
Freda grew up in the Bingen/White Salmon area, graduating from Columbia High School in 1950. On Oct. 26, 1950, she became the bride of Leon Fritz Holtman in Ilwaco, Wash. The couple enjoyed 58 years of marriage.
Throughout her life, Freda worked at Underwood Fruit Packing, as a cook for the White Salmon Valley School District, operated the Rodeo Drive-In Theater and subsequently the Rodeo Car Wash.
After many years of hard work, Freda retired and enjoyed life with her husband, children, grandchildren and great-grandchildren. She was a solid and encouraging presence at her grandchildren's extracurricular activities, often traveling many miles to cheer them on.
Freda was an excellent cook and enjoyed canning fruits and vegetables as well as staying involved in the United Methodist Church, where she was a member. She was unselfish with her time and talents, going out of her way to help others, joyfully whistling as she went. She was an outstanding mother and grandmother.
Surviving family members are her husband, Fritz Holtman; two sons, Greg Holtman and his wife, Christy, and Garry Holtman and his wife, Kendall; daughter Geraldine Logan and her husband, Ron; grandchildren Gabriel, Amanda, Mallory, Ethan, Nicole, Ronda, Jonathan and Leslie; great-grandchildren Viola, Milo, Oceana, and Brennan, and one to be born in February 2010.
Also surviving are sisters Evelyn Krenz and Clara Carlock; brother Douglas Grunke; and many nieces, nephews and friends. Freda was preceded in death by her parents, Fred and Opal Grunke.
A celebration of her life will be held at 11 a.m. Saturday, Sept. 12, at the United Methodist Church in White Salmon, Wash. Burial was held privately at the White Salmon Cemetery. Gardner Funeral Home is handling arrangements.