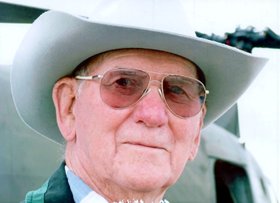 Jerald Cecil Bryan
July 5, 1916 - September 10, 2009
Jerald Cecil Bryan was born on July 5, 1916, to Claude and Margueritte (Peer) Bryan in Peoria, Ill. He was the first of 13 children.
Jerald grew up in Missouri and came to White Salmon, Wash., in 1946.
He served in the U.S. Army Air Force in World War II, 305th Airdrome Squadron, and was stationed in the Philippine Islands for four years. He was wounded in action on Leyte Island, and received several medals and honors, including the Purple Heart.
After that he drove log truck for many years, hauling logs throughout much of this area. Jerald owned three trucks, his first a Mack and the next two, Internationals.
He met Martha Essary in Lyle, Wash., and the couple married Sept. 4, 1949. They have been together for 60 years.
Jerald's favorite hobby and pastime was restoring old Caterpillar tractors. He also owned a 1916 Model T Ford, which he drove in numerous parades in White Salmon, Bingen and Lyle.
He is survived by six children: Lester and Becky Bryan, John and Brenda Bryan, Jerry and Sherry Bryan, Donna and Chris Yeager, Margueritte Green and Billie and Scott Rumsey; 12 grandchildren, 16 great-grandchildren and two great-great-grandchildren.
He was preceded in death by his oldest son, Earman D. Bryan, who is survived by his wife, Claire Bryan.
Jerald passed away Sept. 10, 2009. A celebration of his long and happy life will be held at 1 p.m. Sunday, Sept. 20, at Grace Baptist Church in White Salmon with a reception to follow. Interment will be at the White Salmon Cemetery.
In lieu of flowers please make contributions to Hospice of the Gorge, 1630 Woods Court, Hood River, OR 97031.
Arrangements are under the direction of Gardner Funeral Home in White Salmon.