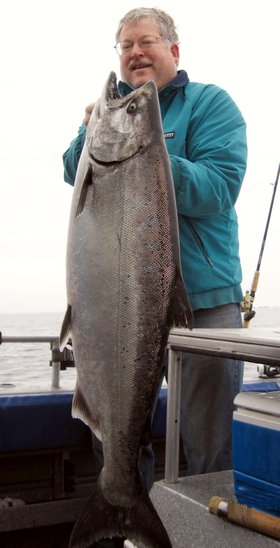 Jerry Cranmer
March 28, 1955 - September 10, 2009
Jerry Cranmer died Sept. 10, 2009. His untimely passing and this senseless act leaves much heartache to his family and his many, many friends. He was only 54 years of age.
Jerry was born March 28, 1955, in Hood River, Ore., to Clarence and Lucy Marie (King) Cranmer. He grew up in Hood River, attending schools here and graduating from Hood River Valley High School in 1973. In high school, Jerry was active in cross country and photography, and he bicycled throughout the Gorge.
With his childhood friend Jeff Lance, Jerry built a darkroom in a basement at the Vagabond Lodge and began developing the photos they took on their hikes.
Jerry's love of running led him to be an active organizer of the Joe Kollas July 4 run from Odell to Hood River. He supported the event for more than 25 years; it has now become a traditional part of the Hood River July 4 celebrations. Jerry manned the water stops and in the early days he struggled with buckets and pitchers to keep the runners hydrated.
After high school, Jerry attended Oregon State University, transferred to Clackamas Community College for a brief period and eventually completed his education at Portland State University, where he was granted a degree in botany in 1980.
During college, Jerry worked for Roger Cassady at Cassady Tree Service, trimming trees and grinding stumps. On rainy days Roger and Jerry would spend the hours at the chess board, where Jerry would win 18 out of 19 games. The rest of the time, they spent scoping out restaurants in Portland.
After college he worked at North Carolina Biological Supply preparing crawfish for biology students to dissect. He had accepted a job with a timber company growing trees, when suddenly they went out of business. Shortly thereafter, Jerry returned to manage the Vagabond Lodge.
The lodge opened for business in 1954 and has welcomed travelers ever since. In the early days, the family, including Jerry's grandmother, lived in two of the eight units. Jerry helped his mother with operations of the property until she retired in 1978 when Jerry took over the helm. Lucy continued to greet guests at the front desk until the day of her death in 2007.
Jerry had a running dialog of his life and the history of the Columbia Gorge. A hike with Jerry was a history lesson in the evolution of the people and places in our area. He was a walking encyclopedia of botany, wildflowers, climate zones and trees. He knew trees all over the area and whether they were native or not, how old they were, when the species first appeared in the area, what climate zones they would thrive in and often times, who planted the tree and when.
It was always fun to go mushroom hunting or fishing with Jerry because he so delighted in the activity and he was so generous in sharing his experiences. Jerry liked trivia and relished jokes that incorporated odd details. He was active politically and was consistent in his support of his ideals.
On Nov. 10, 1991, Jerry's son Charlie was born. Charlie was the light in Jerry's life and he treasured every milestone as he grew from a little boy into a gentle man over 6 feet tall.
Jerry and Charlie shared the wittiest of humor. They would banter back and forth with sound bites and slapstick comedy. Lucy would join in and get a whole group laughing until you had the Jerry and Charlie comedy hour. They understood the value of a good laugh and even if all you could do was roll your eyes at the corny jokes, it still guaranteed a smile.
Jerry used humor to navigate through life, always bringing cheer to even dismal situations. Kind and sensitive, Jerry was known for helping families who were struggling to cope with life's tragedies by giving them a warm place to sleep and a fresh shower.
Jerry was generous to those in need and walked through life guided by his deep Christian faith. A longtime member of Hood River Alliance Church, Jerry enjoyed small group Bible studies.
Jerry is survived and will be dearly missed by his son, Charlie Cranmer, of Hood River; and nephew Grant Polson and his wife, Laura, of Seattle, Wash.
He was preceded in death by his parents, Clarence in 1966 and Lucy in 2007; and sister Joan Marie Polson in 1989.
A service to mourn Jerry's passing is planned for 3 p.m. Monday, Sept. 21, at the Hood River Alliance Church, 2650 Montello Ave., Hood River. Private graveside rites will follow at Idlewilde Cemetery. A public viewing and time of visitation for family and friends in planned for Saturday, Sept. 19, from 1-5 p.m. at Anderson's Tribute Center.
Memorials are suggested to the Jerry Cranmer Memorial Fund and can be sent care of Anderson's Tribute Center.
Arrangements are under the direction of Anderson's Tribute Center (Funerals, Receptions, Cremations), 1401 Belmont Ave., Hood River, OR 97031; 541-386-1000. Please visit www.andersonstributecenter.com to leave a condolence for his family.