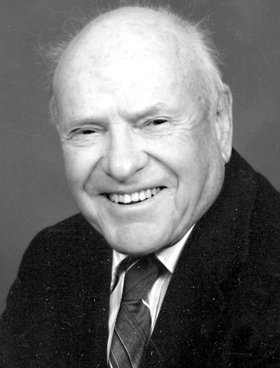 Roger Donald Douglas
August 26, 1915 - September 16, 2009
Roger Donald Douglas passed away on Sept. 16, 2009, at the Oregon Veterans Home at The Dalles at the age of 94. Roger, better known as "Doug" to friends and family, was born in Hood River on Aug. 26, 1915, and was raised in Silverton, Ore.
As a young man he joined the Civilian Conservation Corps and the National Guard (inactive). In 1938 he joined the United States Marine Corps. He was stationed in Hawaii on Dec. 7 across from Pearl Harbor at Hendricks Marine Air Base and saw lots of action in the Pacific during the war. He also served in Korea in 1952. He retired from the USMC in June of 1958 with the rank of Chief Warrant Officer 2.
While on leave in San Francisco in 1943 he met his future wife, Lola Maxine Byrd. To both of their surprise they discovered they were both born in the same house in Hood River six years apart. After the war they were married in November of 1945 in Reno, Nev. They were married for nearly 60 years.
Upon retiring from the Marine Corps they moved to Hood River with their children and purchased five acres on Orchard Road. During the next decade Doug planted pears and purchased more acreage, eventually having a 20-acre orchard.
Besides taking care of the orchard he also went to work at the hardboard plant in Dee and retired in 1979 after 20 years. Doug was a very hard-working man, but always said the orchard was his golf course.
Lola and Doug were able to travel and went go Alaska, New Zealand England, Scotland, Turkey, Hawaii, and more. Lola died in 2005, and Doug continued to take care of his orchard until his health began to decline and he leased it out.
Doug's survivors are: son, Bruce, and wife, Debbie, of Banks, ore.; daughter Cindy and husband, Tom Ressler, of Trabuco Canyon, Calif; son, Keith, and wife, Bonnie, of Alaska and Hawaii; twin granddaughters Colleen of New Zealand and Shannon of Portland, Ore; and stepdaughter Barbara Christjansen, of Hood River.
Services will be held at the Truth Tabernacle Church at 1331 Tucker Road, Hood River, on a date in October.