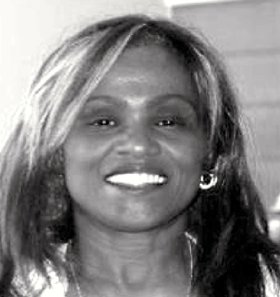 Sadra "Sadie" Leler Matthews
November 6, 1958 - September 22, 2009
Sadra (Sadie) Leler Matthews was born Nov. 6, 1958, in Eloy, Ariz., to Theressa and Lester Matthews Sr. She peacefully went home to glory on Tuesday, Sept. 22, 2009, with family by her side, her son Anthony and beloved Juan Grimaldo-Sanchez. She was the 15th child of 22 children. She was dedicated to God, her family and friends.
At the age of 4, her family moved from Eloy, Ariz., to Parkdale, Ore. Sadie was committed and sound in her faith walk with God. After graduating from Hood River Valley High School in 1977, she worked at Diamond Fruit Growers in Odell for 30 years.
She learned to totally depend on God as her Leader, Provider, and Healer for her source of life. In 2007, she was diagnosed with cancer; through her journey Sadie continued to trust and believe in divine healing and that prayer would change things! God sustained and increased her days here on earth by two years despite the doctor's reports. She remained faithfully committed and determined to believing God's promises in His Word.
Sadie was active in the Apostolic Church in Odell; she loved singing in the choir, and praying with others. She served actively as a woman of honor in the community and churches singing, praying, and testifying of God's love. She enjoyed hanging out with her family, cooking, sewing and she loved planting flowers and vegetables. She also enjoyed gathering at the Columbia River to pray and worship God.
Sadie lived life abundantly every day by seeking God first and serving people as God brought them along her path. One of her favorite Scriptures was "But one thing I do: Forgetting those things which are behind, and reaching forth unto those things which are before, I press toward the mark for the prize of the high calling of God in Christ Jesus." Philippians 3:13-14.
A devoted daughter, a caring sister, and a loving mother, Sadie's life was a beautiful Christian tapestry of love and faithful commitment to the Lord Jesus Christ. She will be greatly missed.
She was preceded in death by her mother, Theressa; her sister, Lucille; and her brothers, Paul, David and Daniel. Survivors include her son, Anthony, her father, Lester; and a host of sisters, brothers, nieces, and nephews.
Celebration of Life will be held at Anderson's Tribute Center, 1401 Belmont Ave., Hood River, Ore., at 2 p.m. Tuesday, Sept. 29. Randy Matthews will officiate.
Graveside service will be hosted at Upper Valley Cemetery, Parkdale, Ore., and a reception will immediately follow at: Hood River County Fairgrounds, 3020 Wy'east Drive, Odell, Ore.
Memorial contributions may be made to Anthony C. Matthews in care of Anderson's Tribute Center (Funerals, Receptions, Cremations), 1401 Belmont Ave., Hood River, OR 97031; 541-386-1000. Please visit www.andersonstributecenter.com to sign the family guestbook.