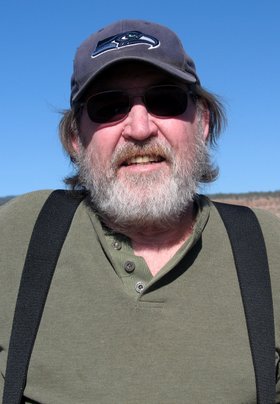 Larry Dean Davenport
July 21, 1942 - September 20, 2009
Larry Dean Davenport, of Hoquiam, Wash., passed away at home on Sunday, Sept. 20, 2009, surrounded by his family. Larry was born July 21, 1942, in Coffeyville, Kansas, to Lawrence and Reva (Hudson) Davenport.
He was raised in Coffeyville and graduated from Field Kindley Memorial High School in 1961.
Larry proudly served his country in the U.S. Air Force during the Vietnam War. He was stationed at Hahn Air Base in Germany and at Edwards Air Base in California, where he proudly helped build and test the rockets that sent the first Apollo missions to the moon. Larry then worked as a Navy pipe fitter until 1987.
On the day after Thanksgiving, 1986, Larry married Josephine Settje in Hood River, Ore. She survives him at the family home.
In 1990 he became a nurse loved by his residents and coworkers. He spent the last few years of his life traveling around the U.S. before moving to Grays Harbor in 2009.
In addition to his loving wife, Josephine, Larry is survived by his two sons, Bradley Davenport, of Preston, Wash., and Thomas Davenport, of Hoquiam, Wash., along with Thomas' fiancée and mother of Larry's first expected grandchild, Whitney Latham; as well as two daughters, Dawn Davenport, of Salt Lake City, Utah, and Teri Lee, of Shoreline, Wash.; also by his father, Lawrence, of Woodland, Calif.; sisters Cheryl Davenport, of Woodland, Calif., and Sue Davenport, of Connecticut; and one Hellcat.
He was preceded in death by his mother, Reva.
Memorials are suggested to the Alzheimer's unit at Oregon Veterans Home, 700 Veterans Drive, The Dalles, OR 97058, "The Place Where Honor Lives."
At Larry's request there will be a bonfire on the Pacific Ocean beach.
To sign the online book of memories or to light a memorial candle please visit www.harrisonfamilymortuary.com.
Arrangements are entrusted to Harrison Family Mortuary of Aberdeen, Wash.