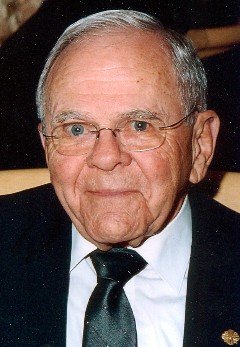 Robert "Bob" W. Thoman
May 16, 1920 - March 29, 2010
Lt. Colonel (Ret.) Robert W. "Bob" Thoman, a lifelong educator, sports coach and dedicated member of the Oregon Lions, died on March 29, 2010.
Known to family and friends as a teetotaler but admitted chocoholic, he lived life helping others.
After more than a 30-year career as a teacher, coach and later as a school principal up and down the West Coast, he became active in the Lions Club, co-founding a club in Parkdale, Ore. He held many Lions offices in Oregon, including president, district governor, chairman of the Council of Governors, and executive administrator of the Lions Clubs of Oregon.
He was elected as a international director of Lions International from 1987 to 1989. This took Bob and his wife, Beverly, all over the world speaking to Lions everywhere. He also helped Beverly with her duties with the Lions Eye Bank of Oregon.
He was born on May 16, 1920, and raised in Kenmore, N.Y., near Buffalo. As a teen, Bob moved to Clifton, N.J., where he enjoyed listening and dancing to the Big Bands like Glenn Miller at the Glenn Island Casino.
Bob's fascination with flying led him to enlist in the Army Air Force during World War II, where he trained in the three different types of aircraft. He was then assigned to be a statistical officer at Camp Pinedale, near Fresno, Calif.
It was there in 1944 that he met the love of his life, Beverly Mello. They were married only two months later, on Nov. 5, of that year. They were a dynamic team for almost 60 years. They were transferred to Geiger Field near Spokane, Wash., where their son Robert was born a year later.
Using the G.I. Bill after his discharge he attended Humboldt State College in Arcata, Calif., often positioning his sleeping infant son in a car right outside the classroom windows while his wife went off to work for the college. His daughter Carol Joy was born in Arcata in 1947.
He became the first person in his family to graduate from college in 1948, and received his master's degree from the University of Southern California in 1957. He spent his life teaching and coaching in Fresno, Santa Barbara, Taft and Millbrae, all in California, and Odell and Parkdale, Ore., where he retired.
Bob was a consummate athlete and tough competitor. He demanded fairness and good sportsmanship above all. He loved playing badminton and ping-pong, and golfing with his grandson, Izaak.
He was preceded in death by his wife, Beverly Mello Thoman, in 2003, and his daughter, Carol Thoman Wolfe, in 2008; both of Hood River.
Survivors include his son, Robert Thoman Jr., and his wife, Joanne, of McKinleyville, Calif.; grandson Izaak Thoman, of Gladstone, Ore.; son-in-law, Stephen Wolfe, of Hood River, Ore.; sister-in-law, Shirley Mello Fabel, of Fallon, Nev.; brother-in-law, Jerry Setty, and his wife, Eva, of Clovis, Calif.; and many nieces and nephews in New York, Nevada and Hawaii.
In addition, he is survived by thousands of Lions in Oregon and around the world, who thought of Bob and Bev as family.
Memorial services will be held April 10 at 1 p.m. at the Hood River Alliance Church, 2650 Montello Ave., Hood River, Ore.
Donations in Bob's name can be sent to: The Lions Eye Bank of Oregon or Heart of Hospice and sent in care of Anderson's Tribute Center (Funerals, Receptions, Cremations), 1401 Belmont Ave., Hood River, OR 97031; 541-386-1000. Please visit www.andersonstributecenter.com to leave a note of condolence for family.