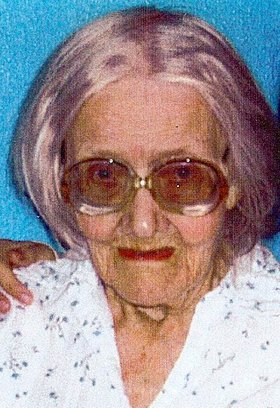 Dorothy E. Wilson
July 18, 1915 - April 12, 2010
Dorothy E. Wilson, 94, died April 12, 2010, at her Ocean Park, Wash., residence. Born July 18, 1915 in Zillah, Wash., she was the seventh of eight children born to Frank and Mabel (Harper) Hill. She grew up on the family ranch in Zillah and was a high school graduate.
On Aug. 16, 1933, she married Ronald E. Wilson in Goldendale, Wash., and the couple settled in the Yakima valley. In 1941 Dorothy moved to White Salmon, Wash., where she was a wife, mother and homemaker.
In the 1960s Dorothy and Ron moved to Hood River, Ore., where they operated "The Butte Orchard" raising pears and cherries until retiring in 1980. In 1995 Dorothy moved to Ocean Park to be near family and a year later, in 1996, her husband died.
Dorothy was a longtime member of St. Mary's Catholic Church in Hood River and was devoted to her faith. A wonderful cook, she was especially known for her baking skills.
In past years she and her husband enjoyed square dancing together and traveling, especially to the Southwest and Mexico, where Dorothy enjoyed the culture. She was a league bowler, Red Cross volunteer and avid reader.
Above all, Dorothy was devoted to her family and enjoyed time with her grandchildren and great-grandchildren, and her canine companion, Marci.
Dorothy is survived by her daughter, Barbara Huss, of Ocean Park; granddaughters Karen (Scott) Alford, of Camas, Wash., and Barbara (Dan) Wilcox, of Vancouver, Wash.; great-grandchildren Ashley (Daniel) Carlson, Evan and Aimee Alford, Austin and Mikaela VanTassel and Daniel Wilcox; 19 nieces and nephews and other members of her extended family; and her special friends Chavo, Martha, Jorge, Adam and Marci Rubio of Sun City, Calif.
In addition to her husband she was preceded in death by brothers Bob, Allan, Delbert and Glen Hill; sisters Hazel Woodall, Verna Heyl and June Hunsaker; son-in-law Hubert Huss; and grandsons Rodney and Brian Huss.
Funeral mass will be celebrated Monday, April 19, at 11 a.m. at St. Mary's Catholic Church in Hood River with a luncheon following. Concluding graveside service will be at St. Mary's Cemetery in Hood River.
Dorothy's guestbook is available at www.penttilaschapel.com. Arrangements are by Penttila's Chapel by The Sea, Long Beach, Wash.