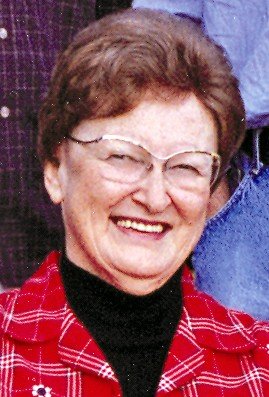 Mary Baucom Webster
February 26, 1934 - April 17, 2010
Mary Baucom Webster died peacefully, surrounded by her loving family on Saturday, April 17, 2010.
She was born on Feb. 26, 1934, in Salt Lake City, Utah, where she graduated from West High and went on to a successful career for Paris Company.
In 1955, she met and married Wayne Mason Webster in the Salt Lake LDS Temple and shortly thereafter moved to Hood River, Ore., where they continued their career in the family business, Roy Webster Orchards.
She was active in various church and community organizations throughout her life and enjoyed working especially with different activities that contributed to the development of her children and family.
Among her favorite passions were sewing, gardening and genealogy, as well as a lifetime love of animals. Her love of animals and sewing continued into her extensive participation in various 4-H programs.
Mary Webster is preceded in death by her husband, Wayne, in 2001.
She is survived by her only brother, Sidney Baucom; her eight children: David Webster, Hood River, Anne Leon, Hood River (and her husband, Joe), Nora L. Maxell, Bountiful, Utah (and her husband, Mike), John B. Webster, Salt Lake City, Lisa Ziegner (and her husband, Luis), Addison K. Webster, Scott Webster (and his wife, Jamie), and Mark M. Webster (and his wife, Kelly). She is also survived by 32 grandchildren and two great-grandchildren.
A memorial service will be held Saturday, April 24, at 11 a.m. at the Church of Jesus Christ of Latter-Day Saints, 18th and May streets, Hood River, Ore.
Interment will follow at Pine Grove Butte Cemetery.
Arrangements are under the directions of Anderson's Tribute Center (Funerals, Receptions, Cremations), Hood River Ore. In lieu of flowers, donations can be made in her name to Hospice of the Gorge, Hood River, or Susan G. Komen Breast Cancer Foundation.