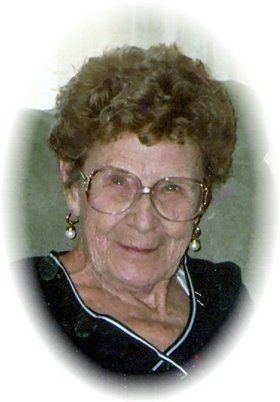 Hazel Elizabeth Walker
October 14, 1922 - April 18, 2010
Hazel Elizabeth Walker, 87, affectionately known as Sally, passed away April 18, 2010, at Providence Hood River Memorial Hospital. Hazel was born Oct. 14, 1922, to William and Ethel (Carter) Brown in Gadon, Mo.
A service to honor and celebrate her life is planned for 1 p.m. Saturday, April 24, at Anderson's Tribute Center, 1401 Belmont Ave., Hood River. Chaplain David Paulson will officiate. Private interment will follow at Idlewilde Cemetery in Hood River.
Hazel moved with her parents at an early age to The Dalles, Ore. It was during the Great Depression; the family traveled to harvest fruit in various areas but would return to The Dalles for the winter months.
In 1937 Sally married Ted K. Loveland of Torrington, Wyo., and they had two children: Kenneth T. Loveland and Darlene May Loveland. In 1941 Sally and Ted divorced.
In 1942 Hazel moved to Hood River, working in various restaurants and local businesses. It was at this time she started to be called "Sally."
While working she met James Hubert "Hube" Walker, who had just returned from World War II. After several encounters of running into each other he asked her out to a movie and after a year of dating, they married on July 25, 1946, at Stevenson, Wash.
Together they worked and raised her two children, who, he raised as if they were his own. Darlene and Ken also took Hube's name. Hube was the love of Sally's life, and he preceded her in death on April 21, 2005.
Sally cooked at the Elks Lodge for nine years, sold real estate for Young Realty for three years, Duckwall Pooley for 16 years and at Diamond Fruit for two years as a floor lady. In addition to all of these careers she was an active mother, seamstress and quilter. Her family members have many of her crafts and creations that they will forever cherish.
At the age of 43 she took up golf; Hube always joked since he had already been golfing that "she took it up to be with him." They both fell in love with the game of golf and played in many, many "man-gal" tournaments and traveled with friends to many different courses over the years. They played in the early days at "The Old Course" where Sally was Club Champion for six years.
In 1991 the Indian Creek Golf Course was built where they became members and played until they could play no more. Her last nine holes were at the age of 84 and she shot in the low 50s. Just two days before she passed, she told her daughter, "I think I'll go over to the golf course just to see if I can hit the ball."
In her later years she enjoyed to read, watch TV and continue with her crafts but macular degeneration took that away from her in the end. She loved her animals; her little Shih Tzu "Benjy" and border collie "Jake."
She recommitted her heart to her Lord and Savior Jesus Christ and I suspect there are golf courses in Heaven where you'll find Hube and Sally.
Sally is survived and dearly missed by her daughter, Darlene Roberts, and son-in-law, Ted, of Hood River, Ore.; son, Ken Walker and daughter-in-law, Deanna, of The Dalles, Ore.; six grandchildren: Jamie Roberts Meyer and her husband, Mark, of Portland, Ore., Steve Roberts, of Hood River, Jason Roberts, of Mt. Hood, Ore., Mike Walker and his wife, Sandy, of Hillsboro, Ore., Julie Walker Mozingo, of The Dalles, Ore., and Cliff Walker and his wife, Beth, of Boulder City, Nev.
Also surviving are 17 great-grandchildren: Matthew Delepine, Allie Delepine, Mariah Roberts, McKenna Roberts, Miranda Roberts, Josiah Roberts, Brittany Roberts, Kris Roberts, Jeff Walker and his wife, Natalie, Greg Walker, Corey Engard and his wife, Kerrin, Ryan Engard, Chelsea Engard, Jennifer Mendoza and her husband, Efrain, Joshua Walker, and Jessica and Jacob Walker.
She loved so very much her wonderful grandchildren and great-grandchildren.
In addition to her parents and husband, she was preceded in death by her brother, Roy Erving Brown.
Sally had given to many charities over the years and one that is special to her family is The Pregnancy Resource Center of Hood River; please make gifts in her name and send in care of Anderson's.
Arrangements are under the direction of Anderson's Tribute Center (Funerals, Receptions, Cremations), 1401 Belmont Ave., Hood River, Oregon 97031; 541-386-1000. Please visit www.andersonstributecenter.com to leave a note of condolence for family.