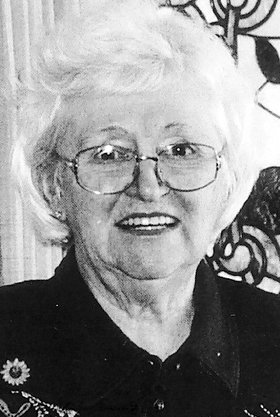 Lucille Signe McCoy
August 23, 1919 - May 23, 2010
Lucille Signe Nordwall Killion McCoy was born Aug. 23, 1919. She passed away May 23, 2010.
Lucille was with us for 90 wonderful years, as a daughter, sister, mother, grandmother, great-grandmother and friend. She was the second-youngest of nine children, born to parents who had both come from Sweden and then made their lives in Braham, Minn.
After attending high school and business college, she and her sisters then moved to Southern California, where she worked as a legal secretary in a law firm. She met and married Army Air Corps soldier Dewey Jack Killion, and they raised three children, Stephen, Betty and Don.
Lucy also worked as a middle school secretary until retirement.
Following Jack and Lucy's divorce in 1978, Lucy then moved to Wilsonville, Ore., to be closer to her daughter and family. While spending time at Serenities, her younger brother Earl Nordwall's restaurant in Trout Lake, Wash., Lucy met Keith McCoy, local historian and author. They married in 1990, and enjoyed 15 years of love and happiness together, with Keith passing away in 2005.
Lucy then spent the last five years of her life in Tualatin and Lake Oswego, Ore.
Lucy is survived by her son Stephen, her daughter Betty, grandsons Jeff Taylor and Michael Killion, granddaughters Kelly Taylor and Anna Killion, and great-grandsons Keith Taylor and Damian Killion.
We will remember Lucy with fond memories of her love, kindness, endless hours of craft-making, and Swedish Christmas Rice.
A celebration of Lucy's life will be held Sunday, Aug. 15, at 2 p.m. at Bethel Congregational Church in White Salmon. David Duncombe will officiate.