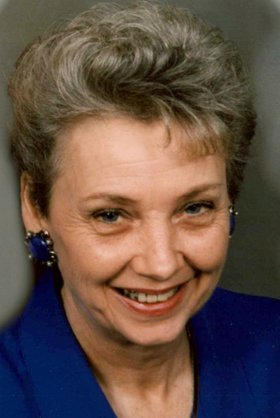 Mary "Miki" Ellen Woolums
January 2, 1927 - July 26, 2010
Mary Ellen Woolums, or more affectionately known as "Miki," passed away July 26, 2010, at Hood River Care Center. Mary was born Jan. 2, 1927, at Eugene, Ore., to Charles Arthur and Ethel Merle. She was 83 at the time of her death.
Mary grew up in Eugene the middle of three sisters: Patricia "Pat" and Shirley. She attended school in Eugene and graduated from Eugene High School in 1944. She was head drum major in the high school marching band.
She and her sisters would bicycle to the coast from Eugene. She attended the University of Oregon in 1945 and was a member of the Alpha Gamma Delta Sorority.
In 1946 she started skating with the Ice Capades and traveled around the country as a chorus line skater. While she was traveling with the show she met Charles "Pat" Russell Woolums at the Palladium in Los Angeles, who had just graduated from the Navy Academy and was in flight school. On March 17, 1947, St. Patrick's Day, they married in Eugene, Ore.
Mary's life became a time of great memories as she traveled with her husband as he served our country as a naval pilot. In 1957 they were blessed with the birth of their son, Scott.
Charles was stationed throughout the world and the family would move almost every two years living everywhere from California, Kodiak to Iceland, until his honorable discharge in 1964 as a lieutenant commander.
Mary enjoyed life; she snow skied and water skied. They traveled the world both with the Navy and also with family vacations. She was always close to her sisters and in their later years they enjoyed each other's company.
Mary and Pat had a cabin south of Bend (before Sunriver) that they enjoyed many trips to.
They moved to Roseburg and Corvallis, where Pat finished his teaching degree. They then moved to The Dalles, where he taught at junior high school. They had a house in Skamania, Wash., where Mary enjoyed spending time on the lake right outside their back door.
Charles retired in 1976 and they continued to live in Skamania. He passed away in 2002 and Mary moved to Hood River to be near her son.
Mary loved her son and worried about him equally as Scott owns and operates Adventures International and travels all seven continents climbing, and has summited Everest five times. She would always welcome his safe return home and listen with excitement to his travels.
Mary is survived by her son, Scott Woolums, of Hood River, Ore.; two sisters, Patricia "Pat" Pittman and Shirley Hibbs, both of Eugene, Ore.; and numerous nieces, nephews and other family.
She was preceded in death by her parents, husband and brothers-in-law, Pitt and JC.
Family will gather to honor and remember Mary on Sunday, Sept. 5, in Eugene, at a family member's home.
Please visit www.andersonstributecenter.com to leave a note of condolence for family.
Arrangements are under the direction of Anderson's Tribute Center (Funerals, Receptions, Cremations), 1401 Belmont Ave., Hood River, OR 97031; 541-386-1000.