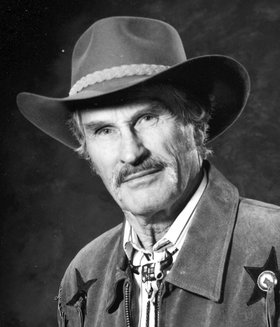 Gilbert T. Clark
August 11, 1925 - August 8, 2010
Much to our sorrow, Gilbert T. Clarke, 84, passed away on Sunday, Aug. 8, 2010, at The Oregon Veterans Home with his family around him. Gilbert was born Aug. 11, 1925, in the back of the Valley Christian Church to Robert A. and Margaret M. (Taylor) Clarke.
Gilbert was born the fifth child of seven in the Clarke family. He was a very feisty and talented child. He frustrated many a teacher as he was only interested in art, music and physical education.
One teacher took a special interest in Gilbert, keeping him after school for art lessons. He won his first state award for art in the fourth grade. That was the first of many recognitions for art he would receive in his life.
A singing contest found him in his own radio show for KODI, at the age of 15, singing and playing the guitar. He was known as the "Yodeling Cowboy." He was later offered a chance to move to Montana to a larger station and a possible singing career, but he felt at 15 that he just wasn't ready for that.
In 1943 during World War II, his early singing career ended when he left school at 17 to join the navy. He spent three years in active duty on the destroyer USS Gwin. After returning home, he pursued his love of art and graduated from the Institute of Commercial Art and later studied horse anatomy at Washington State University.
In 1946, he married his high school sweetheart, Shirley Ann Harder. They raised three children, Peggy, Ken and Colleen. He soon started his own house painting business, once advertising to paint any church in town for free.
Besides painting houses, he also spent many hours painting pictures in his studio. He became well known for his western art, winning state and national competitions with paintings throughout the United States. When the children were small, he was first offered a job with Disney in Los Angeles, Calif., but he turned it down as he didn't want to raise his children in a big city.
Throughout his life, he was also a dog trainer and a boxing coach, an Oregon state turkey calling champion, a 4-H leader, and a wonderful father.
In 1984 Gil and Shirley divorced. In 1985, Gilbert married Vaughna Walston. In 1990 they moved to Montana to follow his dream of western art, showing his paintings in many shows — including the Jay Contway and Friends show during the Charles Russell Show in Great Falls, Mont.
Gilbert has shown in many galleries and art shows in Oregon, Washington and Montana over the last 25 years. In 1995, Gil and Vaughna had had enough of the Montana winters, and moved back to Vaughna's hometown of Wasco, Ore.
Gil was a man of so many talents. He was amazing to watch with a brush and canvas — he made it look so easy. It's one of the many things we will miss about him. He said he wanted to paint a masterpiece before he died. We think he has painted many.
Gilbert was preceded in death by his parents, his brothers, Robert Clarke and Alan Clarke, and his sisters, Violet Nelson and Theresa Sherrell.
He is survived by his wife, Vaughna Clarke; his daughter Peggy Courtney, of Eugene, Ore., son Ken Clarke and his wife, Alice, of Hood River, Ore., and daughter Colleen Vannet and her husband, Chris, also of Hood River; stepchildren Chuck Walston, of Hood River, and Julie Walston, of Milwaukee, Ore.; his brother Richard Clarke, of Hood River, and sister Vera Owens, of Gresham, Ore.
Also surviving are grandchildren Travis Brown and his wife, Tegan, Shannon Webster, Marsha Beldon, Amy Bauer, Nathan Clarke and his wife, Christie, Renee Clarke, Calli and Casey Vannet and Summer Walston; and four great-grandchildren: Shayla and Carly Webster, DeShawn Brant and Drew Brown.
A service for Gilbert will be held at Saint Mary's Catholic Church in Hood River on Monday, Aug. 23, at 11 a.m. A reception will follow at Anderson's Tribute Center.
Family requests that donations be made to Hospice of the Gorge and the American Cancer Society.
Arrangements are under the direction of Anderson's Tribute Center (Funerals, Receptions, Cremations), 1401 Belmont Ave., Hood River, OR 97031.
Please visit www.andersonstributecenter.com to leave a note of condolence for family.