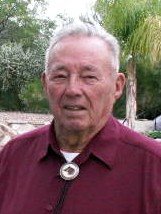 Manley C. Farrar
June 25, 1930 - August 1, 2010
Manley C. Farrar, 80, passed away on Aug. 1, 2010, at his home in Sunsites, Ariz. Manley was born on June 25, 1930, in Fossil, Ore., to John Allen Farrar and Merrill C. Cork-Farrar and graduated from Monument High School in 1949. He served in the U.S. Air Force and was honorably discharged in 1953.
After moving to Alaska he met and married Edith B. Nelson in 1956 and worked as a mechanic for Reeve Aleutian Airways.
In 1960 Manley, Edie and their son Mark moved to Crescent Lake, Ore., where he operated Lesley's Chevron Service and later built Manley's Tavern, a popular stopping place for fishermen, hunters and snowmobilers.
Over the years Manley's mechanical abilities and generosity introduced him to many customers who became lifelong friends.
In 1979 the Farrars moved to Hood River, Ore., on the Columbia River where Manley, his brother Roy, and Dean Lesley built seven large "crab boats" for the Alaskan waters, later made famous by the Discovery Channel TV series "Deadliest Catch."
After enjoying many winter vacations visiting Edie's sister Jessie Sorensen and her family in Tucson, Ariz., the Farrars retired to Sunsites, Ariz., where Edie preceded him in death in 2004.
Manley enjoyed playing golf and hunting with his prized Llewellyn setter bird dogs. He also loved children, especially his two granddaughters, Christy Farrar Karnes and Shannon Farrar McIntyre, who came to visit Manley and Edie in Sunsites each year and often accompanied them on trips to visit friends and relatives.
In 2005 Manley reacquainted himself with Betty Lewis, a childhood sweetheart who grew up on a neighboring ranch in Monument, Ore. They married and lived in Sunsites. Betty was a blessing for Manley in his last years. She took wonderful care of him as his Alzheimer's progressed. She was encouraged and helped by his daughter, Mary Farrar, and close friends Dr. Raymond Scott, Lloyd and Wilma Grover and Jason Coffee.
He is survived by his wife, Betty Lewis-Farrar; son Mark (and Melonie) Farrar; daughter-in-law, Mary Farrar; grandchildren Christy (and Robert) Karnes, and Shannon (and Jesse) McIntyre; great-grandchildren Logan and Cooper Karnes and Mason and Maiya McIntyre; and brother Charles "Buck" (and Joanne) Morris.
A great patriot, veteran, friend and family member has passed on, to where hopefully we all will meet again, in His grace and love.