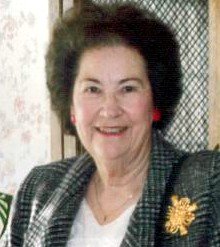 Reba A. Taylor
June 21, 1919 - August 16, 2010
Reba A. Taylor, 91, a past longtime resident of The Dalles, Ore., passed away at a care facility in Vancouver, Wash., on Monday, Aug. 16, 2010. She was born in Casa, Ark., on June 21, 1919, the first of seven children to Claude and Nancy Hamilton. She grew up in Arkansas, moving to California at the age of 25.
Reba married Lester C. Taylor in 1947. They settled in Hood River until a job transfer moved them to The Dalles in 1964 and were married for 51 years.
Reba owned and operated Reba's Ceramics and was lovingly referred to as "the ceramic lady." She sponsored Little League and many other activities for the youth of her community and was a longstanding member of Women Aglow ministries.
In 2006 Reba moved to Vancouver, Wash., with her daughter and lived there until her death.
She is survived by her son, Jerry, and Jan Taylor of Sisters, Ore.; two daughters and their spouses, Betty and Reese Howell of North Bend, Ore., and Patricia and Johnnie Fulk, of Vancouver, Wash.; two brothers, Bill Hamilton and Clayton and Jewel Hamilton; two sisters, Dean Burr Hughson and Ruby and Mason Palmer; 10 grandchildren: Diane, Michael, Billy and Curtis Polzen, Terry Lynn, David and Jeff Taylor, Lisa Kennedy, Shawn Fulk and Kimberly Anderson; and numerous great grandchildren, great-great-grandchildren and nieces and nephews.
Viewing will be held on Friday, Aug. 20, from 10 a.m. to noon at Spencer, Libby and Powell Funeral Home, 1100 Kelly Ave., The Dalles. Graveside service will be held on Friday, Aug. 20, at 1 p.m. at Idlewilde Cemetery in Hood River.