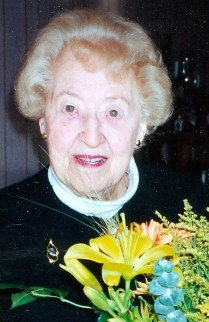 Clara "Sylvia" Sylvia Klahre
December 21, 1910 - November 29, 2010
Hood River resident Clara Sylvia (Strain) Klahre passed away at Providence Hood River Memorial Hospital on Nov. 29, 2010, just a few weeks short of her 100th birthday. She was born Dec. 21, 1910, in the home of her parents, Thomas and Rosina (Dekum) Strain, in Portland, Ore.
She attended elementary and secondary schools in the Rose City and graduated in 1932 from Oregon State Agricultural College in Corvallis with a Bachelor of Arts degree in education. She was a member of Kappa Alpha Theta Sorority.
After graduation, she recalls that it was almost impossible to find a public school teaching job due to the Depression so Sylvia did some private school teaching for the next three years in Portland and on the Hawaiian island of Oahu.
Arriving back in Portland in 1936, she met and married her first husband, Cliff Murdoch. She continued teaching and also was a Girl Scout leader until her first child, Don, was born in 1937. Three years later, the threesome moved to Hood River where Cliff took a sales manager job with the Apple Growers Association. During part of World War II, Sylvia worked on the canning line at night as a volunteer.
In those days, Don remembers trips to Portland on the Columbia River Highway with his dad and mom where Sylvia would have Cliff stop the car so that she could sprinkle some wildflower seeds along the roadway that she had captured from her yard.
A second son, Truxtun "Bud," was born in 1942. The family left Hood River in 1947 and returned to Portland where Cliff took another job in the fruit industry. Sylvia stayed busy as active member of the PTA at Vernon Grade School and later Jefferson High School. She also worked at Meier & Frank at its downtown and Lloyd Center Mall stores in the late 1950s and '60s.
Cliff died in 1968 so Sylvia took a job as a librarian at James Bridger Elementary School until 1973. Then, Jim Klahre, who was Cliff's supervisor and himself a widower, asked Sylvia for her hand in marriage. They became husband and wife in 1974 and lived at 1509 Sherman St. They were very active in the community such as being involved in the founding of the Klahre House in Hood River. Unfortunately, Jim passed away in 1986.
Sylvia went on with her life, volunteering over the years as a knitting volunteer at Hood River Memorial Hospital and investing volunteer hours at the county museum, for the Friends of the Library and the SMART program, just to name a few.
Sylvia has been a resident of Brookside Manor since October 2006. She was very spry and involved in Brookside Manor activities like the exercise time and the painting class just a few days before her death.
Sylvia is a direct descendant of Commodore Thomas Truxtun who was, in 1797, chosen to command one of the first six frigates of the just-established U.S. Navy.
A celebration of life will be at 1:30 p.m. Dec. 3, at Brookside Manor in the Blossom Room (1550 Brookside Drive, Hood River). Family suggests donations to The Next Door Inc. in care of The Klahre House, P.O. Box 661, Hood River, OR 97031.
Arrangements are under the direction of Anderson's Tribute Center (Funerals, Receptions, Cremations), 1401 Belmont Ave., Hood River, OR 97031; 541-386-1000. Please visit www.andersonstributecenter.com to leave a note of condolence for family.