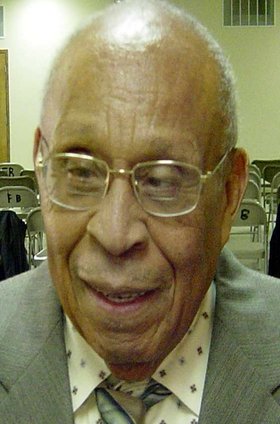 Lester B. Matthews Sr.
March 1, 1919 - December 5, 2010
Longtime resident Lester B. Matthews Sr., 91, went home to glory on Dec. 5, 2010, with his family by his side. A celebration of his life will be held by the Matthews family at the Alliance Church, located at 2650 W. Montello Ave., Hood River, Ore., on Friday, Dec. 10, at 11:30 a.m.
Lester B. Matthews Sr. was born on March 1, 1919, in Slick, Okla., as an only child to Mr. and Mrs. Cornelius Matthews. He graduated from Grayson High School and then attended Langston University in Langston, Okla. He worked for 30 years and retired from Martin Marietta, The Dalles, Ore.
On June 8, 1937, he married Theressa Watson as his soul-mate. In planning their family, it was never in their wildest dreams that one day they would be parents of 22 children.
Their plans were to have two boys and two girls, but God knew the plan for their lives and He blessed them to be fruitful and multiply the earth. He believed that "When you are meant for each other, you can do anything that you set your mind to do together." He always said that a "family that prays together, stays together."
He was an awesome father to 22 children and a host of grandchildren and great-grandchildren. His legacy will forever live on through each of them. He was committed to his family and steadfast in his faith in God when traveling with his family of 19 in a school bus from Eloy, Ariz., to Parkdale, Ore., in 1962. After settling in Parkdale, doors opened for his family to purchase an old schoolhouse in Odell, Ore., complete with a gymnasium that was converted into a chapel to host many church services and revivals of restoration, salvation and deliverance in the Name of Jesus.
Tragedy struck twice when the schoolhouse was burned, but his faith to persevere and stand strong in the middle of adversity was evident. One of his many favorite scriptures was, "Let us run with patience the race that is set before us" (Hebrew 12:1) and "I have fought a good fight, I have finished my course, I have kept the faith; henceforth, there is laid up for me a crown of righteousness…" (II Timothy 4:7)
Lester Matthews Sr. was a legendary man of honor and influential in his home, church, community and country. He was devoted and committed in the ministry over 70 years, ministering and teaching God's Word in season and out of season. His teaching of "mustard-seed faith" carried him from earth to glory.
He loved his family and was dedicated to making a difference every day of his life. He was the foundation of his family and will be greatly missed.
Lester is survived by his children: sons Roy and Spencer, of Eloy, Ariz.; James, Lester Jr. and Steven, of Hood River; Wesley, of Vancouver, Wash.; Leodis, of Los Angeles, Calif.; Michael, of Naples, Fla.; and Mark, Ondra and Randy, of Portland, Ore.; daughters Mary Chaffee, of Goldendale, Wash.; Eler Cousin, Billie Huizar, of Hood River; Helen Lopez, of Pittsburgh, Calif.; and Marsha Biddix and Teynia Matthews, of Hood River.
He is also survived by more than 47 grandchildren, 73-plus great-grandchildren and seven great-great-grandchildren.
He was preceded in death by his wife, Theressa Matthews; sons Paul, David and Daniel Matthews and daughters Lucille Lamb and Sadra Matthews.
Memorial contributions may be made to Anderson's Tribute Center, located at 1401 Belmont Ave., Hood River, OR 97031.
Public viewing will be held on Thursday, Dec. 9, from 1-4 p.m. at Anderson's Tribute Center.
Lester will be laid to rest beside his wife, Theressa, at the Upper Valley Cemetery in Parkdale, Ore.
Immediately following the burial, a celebration reception will be held at the Hood River Valley Adult Center at 2010 Sterling Place, Hood River, from 3-6 p.m.