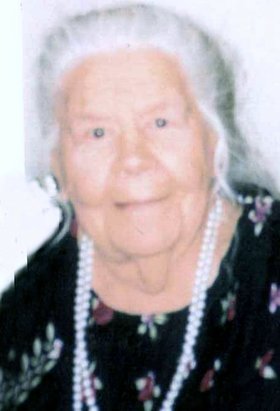 Gladys Joanne Jacobson
May 26, 1916 - December 9, 2010
Gladys Joanne Jacobson was born in Dunton, Colo., on May 26, 1916. She is the seventh child and only girl born to Matthew L. Jacobson and Ida Johannah Jacobson.
She attended grade school in Colorado until 1927, when the family moved to Hood River and bought the Spring Grove Auto Park, which was the family home until it was sold in 1983. Gladys finished high school in Hood River and graduated in 1933.
After high school she worked in the fruit industry and had various jobs until November of 1942 when she went to work for the sheriff's office, where she was employed for 24 years.
In 1966, her mother had a stroke, so she resigned her job to care for her mother until her death in 1972. Thereafter, she helped with the Tourist Park until it was sold in 1983.
She was a charter member of the Soroptimist club, a member of the Hood River Historical Society and was a member of Immanuel Lutheran Church.
She was preceded in death by her parent and six brothers.
Her survivors are her niece, Karen Jacobson, of Lake Oswego, Ore.; five nieces and nephews in Philadelphia and three cousins in Colorado.
"It has been a good life and I hope all of you will keep well and happy for many years to come." (Obituary written by Gladys Jacobson.)
Gladys died Dec. 9, 2010, at the Hood River Care Center.
Arrangements are under the direction of Anderson's Tribute Center (Funerals, Receptions, Cremations), 1401 Belmont Ave., Hood River, OR 97031; 541-386-1000. Please visit www.andersonstributecenter.com to leave a note of condolence for family.