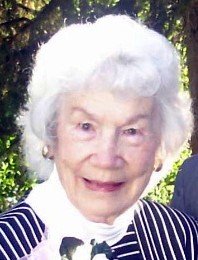 Fay Lamphiear
April 23, 1924 - November 6, 2010
Fay Lamphiear, 86, of Chehalis, Wash., formerly of Hood River, Ore., died Saturday, Nov. 6, 2010, in Centralia, Wash. She was born April 23, 1924, in Kaufman, Texas, to William Warren and Thelma (Linney) Jackson.
The family moved to Vernonia, Ore., and then to Kelso, Wash., in the early 1930s. She graduated from Kelso High School in 1942.
In June 1943, she married George Lamphiear in Kelso while he was home on leave from the U.S. Coast Guard. He preceded her in death in February 2006.
During the war, Fay was a telegrapher and baggage clerk for the Northern Pacific Railway. After World War II, Fay and her husband settled in Longview, Wash.
In 1958, the family moved to Hood River, where they owned the Union 76 Oil distributorship and Lamphiear Oil and Heating. In 1971 they moved to Astoria, where they owned Lamphiear Volkswagen. They eventually moved to White Salmon, Wash., where they owned Bingen Ford and finally moved to Chehalis, Wash.
Fay was an active member of the Church of Jesus Christ of Latter-day Saints, and served in various teaching and leadership positions throughout her life including church youth and Cub Scouts in Hood River.
Family members said she was known for her creativity, positive attitude and fun-loving personality. She touched the lives of many people and was a one-of-a-kind person who knew how to love life and all of the people with whom she came in contact.
She is survived by three sons and two daughters-in-law: John and LeeAnn Lamphiear, of Yakima, Wash.; Mark and Becky Lamphiear, of Gastonia, N.C., and Matthew Lamphiear, of Lacey, Wash.; two daughters and sons-in-law: Jorja and Wayne Muir, of Elko, Nev., and Carla and Alan Oja, of Astoria, Ore.; 12 grandchildren and 13 great-grandchildren; and two brothers and a sister-in-law: Mike and Melodie Jackson, of Monmouth, Ore., and Bill Jackson, of Blaine, Wash.
She was interred next to her husband at the Willamette National Cemetery in Portland.