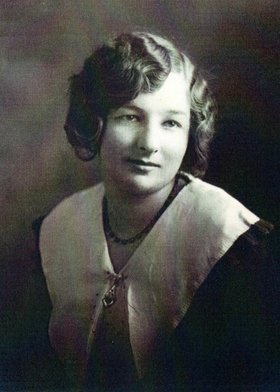 Jessie Louett Hershey
March 10, 1910 - November 18, 2010
Jessie Louett Crabb Hershey died Nov. 18, 2010, in Salem, Ore. She was born March 10, 1910, near St. John, Wash.
At 3 years of age her parents moved to the Coeur d'Alene Indian Reservation and farmed for the Indians. She grew up there attending a one-room school through eighth grade. Jessie graduated from Farmington Washington High School and attended Lewiston, Idaho, teachers college and obtained a degree in education from Eastern Oregon College at La Grande with a minor in arts and crafts.
Jessie married Floyd Hershey in 1934 and moved to Farmington, Wash., to farm. They moved to Nyssa, Ore., in 1945 and had a son, Robert Floyd Hershey.
After her husband's death in 1956, Jessie and her son moved to Hood River, Ore., where she taught school one through the eighth-grade for the Hood River School District until her retirement in 1975. She owned homes in Neskowin and Lincoln City until 1999 when she moved into Dorchester House and eventually to Willson House in Salem to be close to family.
Jessie Hershey contracted TB in 1930 at age 20 while attending school and cleaning houses "for the rich" to pay for college. This was the first time she had lived in a home that had a floor and indoor plumbing. With the loss of one lung she continued to live with little compromise.
She saw a lot of changes in her 100 years and was disappointed when in her 80s her memory would not allow her to excel on computers. Jessie was reportedly an excellent teacher and frequently was given difficult students. She continued to correspond with past students up until her death.
Jessie Hershey was a spirited and knowledgeable woman ahead of her time. She loved to travel and garden and sought any new adventure. She took her first motorcycle ride at age 95. In asking Jessie about regrets she stated she wished she had never gotten on an electric wheel chair as it was fun but she stopped using her legs and "if you don't use it, you lose it."
Jessie passed away from old age after 100 years, eight months and eight days and decided on this date she was tired and it was time to go. She passed away 11 hours later. Jessie died like she lived, in charge of her own life.
Jessie is survived by her son, Robert Hershey; nephews Mike Crabb and Terry Barnes; nieces Barbara Toeltley, Dixie Crabb and Penny Barnes; and cousins Dorothy Decker and Donna Jean Carneige.
Jessie was preceded in death by most of her relatives and friends and she said that was a huge drawback to living a long life. Jessie will be greatly missed by all who knew her, as she was a kind but frank person. She liked all people and lacked the ability to pass judgment of others. Anyone wishing to make a contribution please send donations to Connie Hansen Garden, Lincoln City, Ore.
Graveside services will be held in Dayton, Wash., where she will be laid to rest with her pioneer descendents. Arrangements are under the direction of Keizer Funeral Chapel, 503-393-7037.