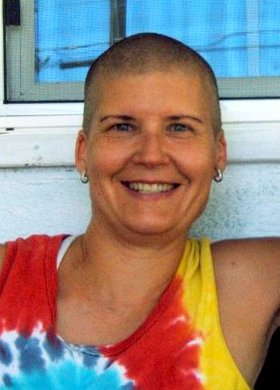 Joyce Crystal Brooks
September 7, 1956 - September 16, 2010
Joyce Crystal (McNeel) Brooks died Sept. 16, 2010. She was born Sept. 7, 1956.
Joyce was our sister and mother. She will always be in our memories and hearts. She was a dichotomy of the simple and the complex. Her lifestyle was uncomplicated. All her worldly belongings could easily fit in her little car, but her love, passion, energy and strength cannot be measured or contained.
The joy and laughter of remembering all that she was to us will never disappear. We remember Joyce enjoying the sounds and beauty of nature, digging in the dirt, picking up rocks, building from found objects, caring for her many domestic and wild animal friends and caring about us.
We remember both her stubbornness and flexibility, her many adventures and her desire for calmness, structure and stability.
She traveled to Vietnam and South Africa, hiked the Pacific Crest Trail, climbed Mount Adams and explored Washington's and Oregon's beaches and rivers.
Joyce loved her children. Her many photo albums captured their moments at the beach, camping at Santiam, Easter, Christmas and Halloween. There were birthdays, first days of school, weddings and funerals.
She had an eye for beauty. She would find beauty in the find from a thrift store and rocks from the rivers. Her camera would find the perfect shot, the perfect light or the perfect shadow in nature and, of course, the perfect expression of her children and family.
Sometimes even her wild animal friends would come out to be photographed. Yet no matter the subject, she always managed to capture a sense of wonder at the beauty of nature.
Joyce loved to learn and was always reading and researching something new. She knew which plants and "weeds" from her yard and the woods made a tasty salad. She learned how to wire electrical systems in boats and how to use machine tools with the help of friends.
She loved to write and was very good at it. Joyce spent hours trying to tell her life story and listening to others and writing their life stories.
Joyce is survived by her daughter, Crystal, and son, Wyatt; Crystal's husband, Jake Spreadborough; and her siblings, Margaret Armstrong, Robert McNeel, Martha Weekes, Linda Allen and twin brother, John McNeel.
Our family wishes to thank all of those who visited Joyce at the Ray Hickey Hospice House and those that joined us in celebrating her life in September. We ask you to remember the joy, laughter and experiences you had with Joyce as a client, friend, relative, sibling and child.
We honor and remember her today as her memorial bench has been placed at Lacamas Lake on Round Lake Trail.
Memorial donations may be made in Joyce's name to: www.standup2cancer.org.