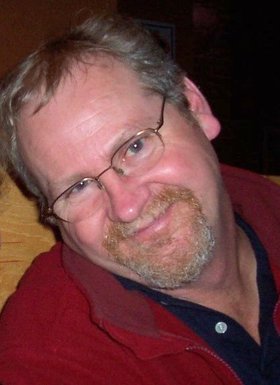 Peter Noel McNab
December 25, 1954 - December 5, 2010
Peter Noel McNab was born on Christmas Day, 1954, to Nora E. (Stangland) McNab and Murray D. McNab in The Dalles, Ore. He completed the family, joining siblings Barbara, Michael, Christine and Andrew. He passed away Sunday night, Dec. 5, 2010, at his home, of a heart attack, at the age of 55, on what would have been his parents' anniversary.
He was born and raised in The Dalles, graduating from Wahtonka High School in 1972. While at Wahtonka, he was a star basketball player and a friend to many. He was a good student and upon graduating from high school, he enrolled at Whitman College to play basketball.
After a year at Whitman, he chose to transfer to Mt. Hood Community College, where on Halloween of 1973 he met his wife, Jamie Kreps, of White Salmon, Wash., daughter of Bill and Alberta Kreps, who very much considered him a son. He went on to attend Warner Pacific College and Portland State University, where he earned his degree in social sciences in 1977.
On April 30, 1977, he married Jamie, the love of his life, whose sister Lynda was coincidently married to Pete's brother Andy. Pete and Jamie lived in Hood River, Ore., because Pete was transferred to Hood River for his job.
They lived in Hood River until they built their home in Underwood, Wash., in 1980, while awaiting the birth of their first child, Ryan, in November. Ryan was followed by daughter Molly in August of 1982. Pete loved his wife and children and always put them first.
In the mid-1980s he took over the family restaurant, the Partridge Inn in Underwood, where he gained the respect of the community with his talents in the kitchen; he continued to work at the restaurant until 1988 when the restaurant closed. Pete worked at Northwest Payroll Solutions in The Dalles for the past 16 years.
He loved to cook and was always creating in the kitchen; he had a passion for golf, and was an avid sports fan, and especially loved watching his kids in their high school sports.
He had great friends and was loved by all. He was very proud of his kids and was proud to be both an Oregon State University and a Washington State University dad.
In 2004, he welcomed his daughter-in-law Anna into the family, then his granddaughter Emma in 2005, who was followed by grandson Adam in 2008.
Pete is survived by his wife of 33 years, Jamie; his son Ryan and daughter-in-law Anna and grandchildren Emma and Adam, all of Lewiston, N.Y.; his daughter Molly of Spokane, Wash.; brothers Andrew and his wife Lynda, of Grangeville, Idaho, and Michael and his wife Dottie, of Moscow, Tenn.; sisters Barbara McNab and Christine Denton and her husband Dallas, all of The Dalles; 10 nieces and nephews, whom he considered his sons and daughters, and numerous great-nieces and -nephews.
Just as important as family are his many great friends.
He was preceded in death by his father in 1976 and his mother in 2009.
A memorial service was held at the Columbia High School gymnasium on Dec. 11. Memorials may be made to the Pete McNab Memorial Fund at Riverview Community Bank in White Salmon, Wash.
Arrangements are under the direction of Gardner Funeral Home, 509-493-1323.