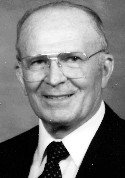 Walter Pollock
June 2, 1917 - December 19, 2010
Walter Pollock, a father, brother and grandfather, passed away of natural causes on Dec. 19, 2010, at his home in Hood River, Ore., at the age of 93. He was a resident of Hood River since the passing of his wife of 58 years, Virginia Reese Pollock, in March of 2003.
Walter was in regular attendance at the Riverside Church in Hood River and served in various leadership roles of the Greencastle Presbyterian and Punxsutawney Presbyterian churches.
He is survived by a son, James Walter Pollock, and daughter-in-law, Nancy, of Mount Laurel, N.J., and their children, Peter and Laura; a daughter, Karey P. White, and son-in-law, Bob, of Hood River; granddaughter Silvan Shawe and her husband, Adam Young, of Haleiwa, Hawaii; and a brother, Dr. Joseph J. Pollock USAF Col. Ret., and sister-in-law, Nancy, of Hickory, N.C..
Walter was born on June 2, 1917, in Rochester Mills, Pa., to Robert J. and Flora Jordan Pollock. He was the oldest of four children.
He was a World War II veteran who served in the Army Air Corp in Africa as a weather forecaster.
Walter was a farmer, and school bus driver, near Punxsutawney, Pa., and a service technician and salesman in HCR, his brother Robert's business machine and computer business, in Hagerstown, Md. He retired at the age of 65 from his brother's shop in 1982 after 25 years.
He spent nearly three years building a 26-foot trimaran sailboat in his garage in Greencastle, Pa. He sailed the boat, Sir Launch-a-Lot, for 17 seasons thereafter on the Chesapeake Bay.
Interment and graveside services will be held at Circle Hill Cemetery, Punxsutawney, Pa., at a later date.
Arrangements are under the direction of Anderson's Tribute Center (Funerals, Receptions, Cremations), 1401 Belmont Ave., Hood River, OR 97031; 541-386-1000. Please visit www.andersonstributecenter.com to leave a note of condolence for family.