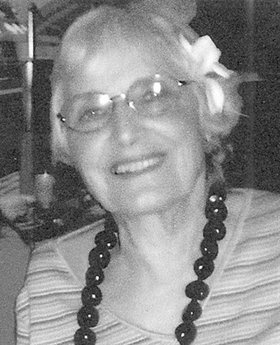 Betty Dee Holston
April 24, 1924 - December 18, 2010
Betty Dee (Brackenbury) Holston passed away while surrounded by her family on Dec. 18, 2010. She was born April 24, 1924, in Salt Lake City, Utah, the only child of John "Jack" Robert Brackenbury and Dee Gilroy.
For much of her childhood, Betty lived with her grandmother Rita, grandfather Rodney and her great-aunt Eva ("Oe").
Dee and Jack divorced, and Dee remarried Charles Rhodes, bringing into Betty's life her friend and sister Bev Rhodes Sacher. As teenagers, they were up to pranks and fun in Portland, Ore.
Betty told a story of the two of them holding their coats over their heads at Crown Point. Of course, the wind snatched their jackets away, much to their parents' displeasure.
Betty married and had five children: Stan Dee Payne, Leslie Jo Darga, Caerl Lynne Payne, Duane Austin Payne and Shannon Roxanne Perry. "Oe" lived with them until her death in 1963 and helped nanny the children.
While attending Portland State College, Betty met the love of her life, Lonn W. "Jim" Holston. On Sept. 12, 1969, they married in Portland, Ore. In 1975 they settled in The Dalles, Ore.
Betty was a compassionate social worker in a number of different positions: vocational rehabilitation, children's services division, and later at the Columbia Gorge Center. She was a model of unconditional love and support to children in the most difficult circumstances. One of her coworkers said that she never gave up on even seemingly hopeless teenagers.
She was a member of American Association of University Women, the Weavers Guild and a local book group. She also took several art classes from Jeff Stuart, an artist she admired.
After her retirement, Betty was able to pursue her hobbies of weaving, painting in oils, chalk pastel and colored pencil drawing. Reading was a constant in her life. Her love of animals was evident in the parrots and dogs she and Jim kept. She loved to hike and RV with her sweetheart, spending several winters in California and Arizona.
Her husband, Jim, sons Stan (Margaret) and Duane (Joan), daughters Leslie (Jim) and Shannon (Stephen), and half brother Phillip Brackenbury survive her.
Grandchildren include Jeff Payne, Jenna Folden, Jeremy and Jenny Osterhoudt, Kimberly Simon, Jennifer and Sean Darga, Chris Nelson and Angie, Megan and Kirsten Perry. Great-grandchildren are Cooper and Jack Folden, Blake Simon, Mia and Billy Payne and Athena Nelson. Nieces and nephews include Harry Hegarty, Fran Paxton, Elayne Shirts, Mary Kay Estes, Alice Shorthill, Eldon Payne, Gloria Poecker and Kathryn Hair.
She was preceded in death by her parents, her daughter Caerl Lynne and her sister Bev.
Arrangements for a spring memorial will be announced at a later time when the season reflects her warm personality. Betty attended Mountain View Worship Group of the Society of Friends, a local Quaker group, for more than 20 years. Those wishing to remember Betty are invited to join the Quakers for unprogrammed Meeting for Worship on any first or third Sunday at 10 a.m. at St. Paul's Chapel in The Dalles.