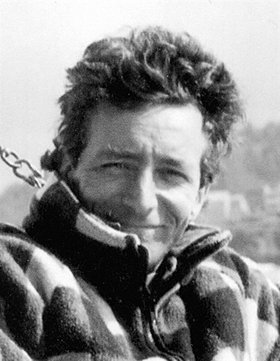 Frank "Hank" M. Dane Jr.
unknown - December 11, 2010
Hank (Frank) M. Dane Jr. died Saturday, Dec. 11, 2010, at his residence in Easton, Mass. He was born in Quincy, Mass., the son of Frank and Christine (Sheppard) Dane.
He graduated from Weymouth North High School. He lived and worked in Franconia, N.H., for several years.
He first worked at Tammarack Tennis Camp. Building, masonry and tree work were several of his trades. He worked at Cannon Mountain and hung cable for the new tramway.
Hank enjoyed extreme recreation throughout his life. Ski racing, hiking, camping, fishing, hunting, wind surfing, golfing and exploring were a part of everyday with Hank. When visitors stayed with Hank he made sure everyone left with stories of adventure and good times. No one knew how to have more fun.
Hank followed snow to Jackson Hole, Wyo. He worked on the race crew, taught skiing and guided some of the out-bounds trips. He ski raced with the locals and did well. He loved to beat the 20-year-olds.
Summer and windsurfing brought Hank to the Columbia River Gorge, where he enjoyed high-wind windsurfing, year-round skiing, salmon and steelhead fishing, hunting, golf and kayaking. He settled "Hank's High-Wind Hacienda" on the Klickitat River, living there for several years. The Hacienda boasted a rope swing off the bridge, solar shower building, beautiful woodshop and vegetable gardens — and don't forget the tree house/deer stand with wall-to-wall carpet.
Many fond memories and new friendships were created there. Cookouts were a regular thing. Hank would cook — or, rather, burn (because he was talking the whole time) venison or some sort of fish from the river, and have fresh veggies from his garden.
Winter was another story altogether. Hank had the best of both worlds. When the snow would fly, he was off to Jackson Hole, Wyo., where he would teach skiing or work race crew.
He worked locally in construction for Schuepbach and Leroy Rosen companies. After living roughly 20 years in the Northwest he returned to the east and worked for Local 7 Ironworkers and A. J. Martini Contractors. He worked with his brother on numerous high-rise projects in Boston.
He made his home in Easton five years ago. He was thoughtful, loving, considerate and cared deeply about making our world a better place. He lived his life with exuberance, passion and energy. He leaves behind many friends everywhere and will be greatly missed.
He was predeceased by his parents and a niece, Heidi Anne Daly.
He is survived by a brother, David Dane, of Franconia, N.H.; two sisters, Christine Bresnahan, of Newport, N.H., and Heidi and her husband, Leo Daly, of Thetford, Vt.; nephews Leo Daly and David and Brendan Dane; a niece, Christine Bresnahan; and his dear friend and partner, Patricia Simboli, of Boston, Mass.
A Mass of Christian Burial was held Saturday, Dec. 18, at the St. Rose of Lima Catholic Church, Littleton, with Father Marcel Martel officiating.
Arrangements are under the direction of the Ross Funeral Home, Littleton Chapel. Condolences to the family may be made online at www.rossfuneral.com.