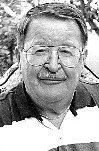 Bob Denny
June 5, 1946 - January 26, 2010
Bob Denny passed away peacefully on Jan. 26, 2010, after a courageous battle with Alzheimer's.
He was born to Louis and Pearl Denny on June 5, 1946, in Hood River, Ore. He graduated from Wy'east High School in Hood River on May 27, 1954.
On March 27, 1956, he enlisted in the U.S. Navy. On Jan. 16, 1959, he married the love of his life, Kristy Heck.
Bob's naval career took them from the East Coast, where daughter Dianna was born, to the West Coast, where son Robert John was born, to as far away as Yokohama, Japan.
Bob retired from the Navy in 1978 after serving for 22 years. He went on to work for NSWSES as a technical training manager until he fully retired in 1985.
Bob was a member of the local VFW and the American Legion Post 48, where he loved to help cook and spend good times with friends.
He is preceded in death by his parents; his brother, Jim Denny; and his wives, Madeline and "the love of his life," Kristy.
He is survived by his son, Robert, of Ventura, and daughter, Dianna (Jim) Lund, of Goose Creek, S.C. Also surviving are his grandchildren, Stefanie, Matthew and Thomas Lund, and great-grandson, James David.
"We will love and miss you always."
Bob's children wish to personally thank Bill Sellars of Oregon for being one of our dad's best friends for the last 54 years; Joe and Rosie Gatto of Florida, for being loving and fun friends for the past 40 years; Don and Helen Propellas, Larry Hamel and Myrna Harline, for the friendship and compassion you shared with our father.
We also wish to thank Country Villa Nursing Home for the great care given to our father when he was residing there.
Thank you also to Vitas Hospice Care for making our dad's final days comfortable.
The family requests that in lieu of flowers donations be made to the American Legion Post 48, 2639 Wagon Wheel Road, Oxnard, CA 93036 or to a favorite charity of your choice.
A memorial and celebration of life is planned at 1 p.m. on Feb. 6. It will be held at the American Legion Post 48.
Please sign the guest book at obits.VenturaCountyStar.com.