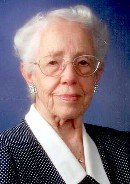 Ina Doty Parsons
June 13, 1913 - January 28, 2010
Ina Doty Parsons, 96, died Jan. 28, 2010. She was born June 13, 1913, in Richmond, Utah, the youngest of the five children of George Ellis Doty and Hannah Elizabeth Adelaide McCarrey.
Ina was always very proud of and supportive of her parents, siblings Benjamin McCarrey Doty (Leona), Ruth Doty Thornley (Floyd), George Ellis Doty Jr. (Betty) and Eda Doty Smith (Merlin) and their families. She was the last surviving sibling.
Ina loved to tell of their adventures growing up in Richmond and how she played the drums in the family band.
Music was an important part of Ina's life. She began leading music while in Primary and continued to do so in Relief Society, Sunday School or Sacrament Meeting for the next 80 years. She was a member of the Church of Jesus Christ of Latter-day Saints.
Ina graduated from Utah State University in 1934 with a major in secretarial science, a minor in commercial law and a professional teacher's certificate. She taught secretarial science at USU for 23 years, where she also served for several years as secretary of the faculty, the Faculty Association and the Professional Relationships Committee.
Ina married Harold James Parsons in the Logan Temple on June 8, 1959, and moved to Hood River, Ore. She enjoyed gardening, walking, bowling and serving in many church capacities. She and Harold visited numerous countries all over the world. Harold died June 10, 1982.
In 2002 Ina moved to Layton to be closer to her family. She loved to attend their many family get-togethers. Her family would like to thank Apple Village in Layton, Legacy House of Bountiful and Hospice for the care they gave her.
Ina is survived by two stepdaughters: Barbara Parsons Bernstein, of Ogden, and Dorothy Parsons Marx (Clyde), of Kaysville; seven grandchildren, 20 great-grandchildren and one great-great-grandchild.
Graveside services were held Tuesday, Feb. 2, at the Richmond, Utah Cemetery, under the direction of Lindquist's Bountiful Mortuary.
Condolences may be shared at www.lindquistmortuary.com.