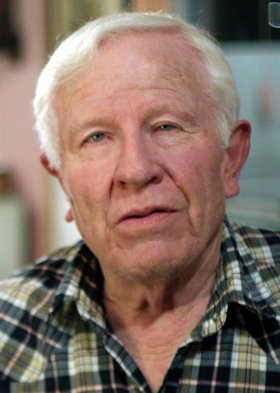 Richard "Dick" Arthur Anderson
October 7, 1922 - January 29, 2010
Richard Arthur "Dick" Anderson, 87, died Friday, Jan. 29, 2010, in Goldendale, Wash. He was born Oct. 7, 1922, in Millwood, Wash., to Rosaline Anderson, a nurse, and Peter Anderson, a timber faller.
After graduating in forestry from Washington State University, he spent the early part of his career as a forester, later to become a teacher and a principal. He was a teacher and principal at Pine Grove School and served in the Hood River School District for 20 years.
After retiring from teaching, he traveled with his wife, Carol, and eventually settled in Goldendale.
Dick was preceded in death by his wife, Carol, and his son Douglas. He is survived by his brother Lloyd Anderson, his sons David, Daniel, Donald and Dennis, and his grandchildren, Heidi, Doug, Jordan, Stephanie, Megan and Gretchen.
Dick enjoyed the outdoors. He hiked, camped and fly-fished and was an ardent rock-hound. He loved to travel the western United States and studied Native American culture and artifacts. He was an avid reader and Bible student, and for many years was a member of Rowena Baptist Church.
A memorial service will be held for Dick on Saturday, Feb. 6, at 3 p.m. at the Rowena Baptist Church near The Dalles, Ore. A fellowship dinner will follow.