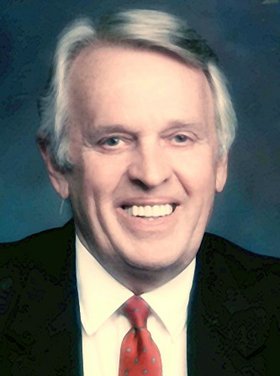 George "Bernie" Bernhard Wertgen
February 2, 1932 - February 1, 2010
On Feb. 1, 2010, George Bernhard "Bernie" Wertgen slipped away peacefully and courageously to meet the angels that were waiting for him. He was born in St. Vincent's Hospital on Feb. 2, 1932, to Gerhard and Emma Wertgen, of Parkdale, Ore.
When his father wrote the check for his delivery, the banks had closed and there was no money available so his father negotiated with the nuns to pay the hospital bill with a truckload of apples. Thus began Bernie's love for growing fruit.
His father, Gerhard, was in the military in Germany before traveling to the United States around 1910. He ventured to the West Coast and discovered the beauty of the Hood River Valley and Mount Hood.
He purchased about 40 acres of land south of Parkdale, cleared the land, built a home, planted apples, pears and married Bernie's mother, Emma. By the time Bernie was born the orchard was producing a good healthy crop enough to pay for his birth.
Bernie attended Parkdale Elementary School and for his freshman year of high school he attended both Lincoln and Grant high schools in Portland. His next three years of high school were at Parkdale, where he played football and graduated in 1948.
He attended Willamette College for two years and then transferred to Lewis & Clark, where he graduated with a Bachelor of Arts degree. He worked for the accounting firm of Deloitte Touch in Portland, then moved to Hood River in 1955 and joined the CPA firm of John W. Arens, who offered him a partnership in 1958 to form Arens & Wertgen.
He purchased his first airplane in 1957 and took flying lessons from Mel Lingren. He joined the Elks Lodge in 1957 and the Crag Rats in 1955.
His love of the mountain began at an early age. He was about 15 when he climbed it all by himself, not even telling his parents. Coming down the mountain he slipped on ice and ended up in a crevice on Eliot Glacier. The only thing he still had on him was a flashlight, so he unscrewed the end and used it to chop steps in the ice to climb out.
His love for being an orchardist resulted in his owning 400 acres of what he referred to as "the most beautiful acres in the Hood River Valley."
Bernie loved the valley and when asked about traveling to see other sights around the world, he would always comment that there just wasn't anyplace he would rather be than in the Hood River Valley. He did travel and see a lot of the world with his wife, Jeanne, but was always glad to return home.
These people were loved by Bernie: his wife, Jeannie Stevens Farwig, of Hood River, Ore.; sister, Edith Gray, of Grants Pass, Ore., and her children, Yvonne Apodace, Julia Baldwin and Matthew Sharkey; his children, Mary Thomas and her husband, Matt, Victoria and her husband, John Capaci, Fritz Edgar and his wife, Tisha, Guy Wertgen, and Lori and her husband, Tony Martinez; grandchildren Annika and Andy Martinez and Derek and Billy Thomas; Jeannie's children, Steve and Tamara Farwig and their two children, Renee Lynne and Ross, and their children, Graham, Leah, Shane; and also Pedro and Maria Elsa Galvan and their children Elizabeth, Jason, Pedro, Miguel and Kevin.
He was preceded in death by his parents; uncle, Franz Wertgen, and several cousins.
A celebration of his life will be held at 2 p.m. at the Crag Rat Hut on Feb. 14. Pastor Mark Willems of the Parkdale Community Church will officiate.
Arrangements are under the direction of Anderson's Tribute Center (Funerals, Receptions, Cremations), 1401 Belmont Ave., Hood River, OR 97031; 541-386-1000. Please visit www.andersonstributecenter.com to leave a condolence for Bernie's family or print a map to the Crag Rat Hut.