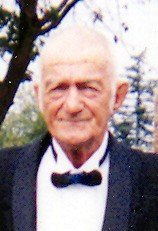 Joe K. Rider
November 11, 1931 - February 24, 2010
Joe K. Rider, 78, of Harrison, Ark., died Wednesday, Feb. 24, 2010. He was born on Nov. 11, 1931, in Viola, Mo., to Virgil Rider and Irene (Denney) Rider.
Joe served his country in the U.S. Marines during the Korean War. Before his retirement he was employed as a fruit packer in Hood River, Ore.
He enjoyed fishing, reading and spending time with his friends and family.
He is survived by his four sons: Danny Rider and his wife, Beverly, of Harrison, Cecil Rider and his wife, Meri, of Fairfield, Calif., Ronnie Rider and his wife, Mardella, of Merced, Calif., and Earl Rider and his wife, Shawna, of The Dalles, Ore.; three daughters: Mary Irene Smiley, of Washington, Dorothy and her husband, Ray, of Washington, and Virginia McGlade and her husband, Michael, of New York; 24 grandchildren and many great-grandchildren.
Besides his parents, he was preceded in death by his son Marion Rider, infant daughter Mandy Rider, brother, Ben Rider and sister, Mary Phillips.
A celebration of life service will be held at 1 p.m. Saturday, Feb. 27, at McCullough Church in Shell Knob, Mo. Visitation will take place Friday, from 6-8 p.m. at Smith Family Funeral Home in Green Forest.
Memorials may be made to the McCullough Cemetery in care of Wanda McCreary, 15349 Hwy. 311, Green Forest, AR 72638. Please visit www.smithfamilyfuneralhome.net to leave a note of condolence for the family.