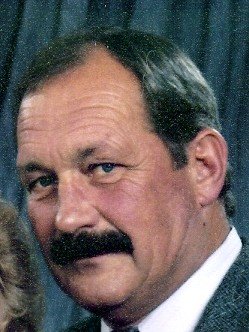 Patrick Keith Petteys
December 18, 1941 - December 21, 2009
Patrick Keith Petteys passed away Dec. 21, 2009, at his Parkdale, Ore., home with family by his side. Patrick was born Dec. 18, 1941, in Pendleton, Ore., and was 68 years of age at the time of his death.
A service to honor Pat is planned for 1 p.m. Saturday, Jan. 23, at the Parkdale Grange, 7375 Clear Creek Road, Parkdale. Pastor Jerrold Collins of Immanuel Lutheran Church will officiate. Inurnment will be in the spring at the Petteys Family Cemetery in Ione, Ore.
Pat grew up in Pendleton attending schools there and graduating from Pendleton High School in 1961. He excelled at athletics and was a star fullback, linebacker and catcher. In 2008 he was honored by being inducted in to the Pendleton High School Football Hall of Fame.
Pat met Carol L. Schacher, a classmate at Pendleton High School. They were married on Oct. 7, 1961, in Pendleton. They have three sons: Mark P. Petteys, Kelly B. Petteys and Jeffrey M. Petteys.
Pat was employed with the U.S. Forest Service. He began his career as a surveyor and later as a civil engineer, where he designed roads and bridges in the Mount Hood National forests. The family lived throughout Oregon, settling in Parkdale in 1972.
He coached Little League and Babe Ruth baseball teams in the community. From 1979 to 1987 Pat co-owned Murray's Auto Wrecking in Hood River. He returned to the Forest Service in 1987, retiring in 1992. He then contracted for several engineering firms.
Pat was a versatile bluegrass musician. He introduced his son Mark to bluegrass jams in the early 1970s, and played bass in a band with Mark, Carol, Bud Brown, Darryl Arrington and Cecil Snow, called the Upper Valley Mountaineers. Later, in the 1980s, people will remember him playing standup bass with Mark and Joey McKenzie.
Pat had many artistic talents. He restored classic cars with his son Kelly, winning many trophies. He was also a member of the local Ring Kings Car Club.
Pat and Carol made several trips to Asia and Europe to see their son Jeff and wife Faron while Jeff was serving in the United States Air Force. Pat also enjoyed vacationing in Mexico and Hawaii.
Pat is survived and will be dearly missed by his wife, Carol L. Petteys, of Parkdale, Ore.; sons Mark (wife Phyllis and son Guthrie), of Forest Grove, son Kelly, of Parkdale, and son Jeff (wife Faron and daughter Drake), of Clovis, N.M.; his sister, Beverly Petteys, of Pendleton; brother Gary Petteys, of Astoria; his mother-in-law, Wanda Schacher; his stepmother, June Petteys; and several nieces and nephews.
He was preceded in death by his parents, Gilbert R. Petteys and Sybil Darling Petteys, and his father-in-law, Leo F. Schacher.
Memorials are suggested in memory of Pat to a charity of choice and sent in care of Anderson's.
Arrangements are under the direction of Anderson's Tribute Center, 1401 Belmont Ave., Hood River, OR 97031; 541-386-1000. Please visit www.andersonstributecenter.com to sign the family guest book.