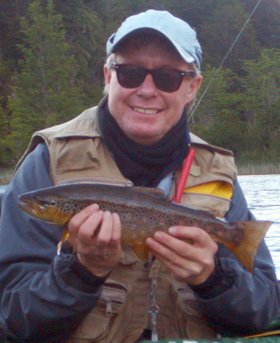 Glen Haack
January 7, 1959 - January 4, 2010
Glen Haack, 50, of Hood River, Ore., died Jan. 4, 2010. He was born Jan. 7, 1959, in Brookings, S.D., the second child of Dale and Barbara Haack. He had an older sister, Sandy, a younger sister, Gail, and a younger brother, Jon. The family moved to Vermillion, S.D., Fargo, N.D., Morris, Minn., and Falcon Heights, Minn., before settling in St. Peter, Minn.
A service to mourn Glen's passing is planned for 1 p.m. Saturday, Jan. 16, at the Christian Missionary Alliance Church, 2650 Montello Ave., Hood River, with Pastor Steve Grace officiating. Friends are also invited to visit with Glen's family Friday evening from 4-7 p.m. at Anderson's Tribute Center, 1401 Belmont Ave., Hood River.
Glen graduated from St. Peter High School in 1977. He attended Black Hills State College in Spearfish, S.D., and Westminster College in Salt Lake City, Utah. He was an avid skier, backpacker, fisherman and outdoorsman.
Glen became a developer in Scottsdale, Ariz., and then traveled northwest to Hood River, which had rivers for fishing, windsurfing that was world-renowned, and Glen could ski Mount Hood all year.
Glen continued developing properties and starting businesses. He married Kim Kean, and they were blessed with four wonderful children: Logan in 1992, Forrest in 1993, Rutger in 1998 and Rachel in 2000. They were everything to him; he loved them intensely.
Glen was proud of his family. He spent time teaching them to mountain bike, fish, swim and ski. He enjoyed watching his four athletes in every sport.
Glen was proud of his contributions to Hood River. He was proud of the buildings that he built, his toy store and the relationships that he had. He was hard-working, knowledgeable, empathetic and kind to others.
Glen had a wry sense of humor, loved dogs, and traveled all over the world. He was baptized and confirmed in the Lutheran faith.
We will miss you, Glen. Please know that we loved you very much. You lived a full life, but left us too soon. You are in God's arms. We are comforted by this and know that you will be in our hearts forever.
We love you!
Thank you for all of the prayers, love and support that we have received from family, friends and our pastors. Your expressions of love and prayerful support for our family is God's way for the beginning of healing for us all.
Arrangements are under the direction of Anderson's Tribute Center (Funerals, Receptions, Cremations), 1401 Belmont Ave., Hood River, OR 97031; 541-386-1000. Please visit www.andersonstributecenter.com to sign the family guest book.