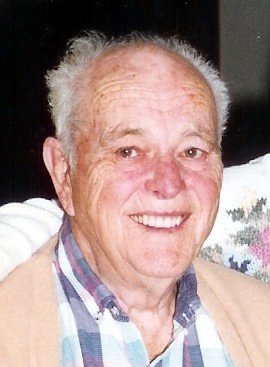 Maynard Phillip Ward
unknown - January 7, 2010
Maynard Phillip Ward, 89, a resident of Hood River Valley, died peacefully in his sleep at home in Odell, Ore., on Jan. 7, 2010. Maynard was born in Collyer, Kansas, to Harry and Flora (Hargitt) Ward.
After graduating from Quinter (Kansas) High School in 1939, he and a cousin pooled their money to buy a Model A Ford, and worked their way to Hood River, Ore. They stayed with relatives.
That fall they worked for Apple Growers Association at Plant H cold storage, stacking boxes of fruit. Their goal was to earn money for college. When the seasonal work ended, Maynard stayed, while his cousin drove the Model A back to Kansas.
Maynard then found work at an Onalaska, Wash., mill, grading lumber. One weekend in April he returned to Hood River and, through a mutual friend, he met a girl. He was bitten by a spring love bug.
On Aug. 11, 1941, he and Mary White were married. Their first home was in Chehalis, Wash. Within a few weeks Maynard received his military draft number. He and Mary returned to Hood River. Once again Maynard went to work at Plant H and Mary packed fruit.
On Dec. 1, 1941, Maynard was enlisted into the Army and stationed at Fort Lewis. By Dec. 7, he had been selected for radio training in Seattle, with the Alaska Communication System (ACS). He was sent with two other men to set up radio communications out on the Alaska Peninsula, where he stayed for two years. Later he was transferred to Fairbanks.
After his discharge, Maynard trained to be an air traffic controller at San Francisco International Airport. Neither he nor Mary liked the hectic, crowded city life. Within eight months Maynard had re-enlisted with Alaska communications and they and their first baby were on a ship headed for Wrangell.
Maynard and Mary returned to civilian life long enough for their four children to graduate from Wy'east High School in Odell. Maynard did TV repair, worked for United Telephone Company, became active with the amateur radio club as well as 4-H and Boy Scouts. By then ACS was no longer military.
Mary and Maynard returned to Alaska and to his loved radio work. In October 1982 he retired from his job at Nome, Alaska, and they settled back into their home in Odell. Maynard was involved again with the ham radio club, teaching others to enjoy ham radio for fun and emergencies. His licensed radio call sign is AL7V.
Family was the most important thing in Maynard's life. In 1985, Mary and Maynard joined The Church of Jesus Christ of Latter-Day Saints. It was like coming home at last.
Maynard leaves behind his wife of 68 years, Mary; sons Ron Ward, of Juneau, Alaska, and John Ward and his wife, Penny, of Craig, Alaska; daughters Nancy Steele and her husband, Gary, of Hood River (Dee), and Barbara Mathis and her husband, Alvin, of Hermiston, Ore.; nine grandchildren, 15 great-grandchildren and one great-great-grandson; sister Neva Allen, of Bell Gardens, Calif.; sister-in-law Norma Ward, of California; brother-in-law Larry White, of Kalispell, Mont.; and many nieces and nephews.
He was preceded in death by his parents; three brothers, Harry Jr., Martin and Eugene; sisters-in-law Pearl Ward, Loraine White and Aileen Neuman; and a brother-in-law, Leonard Neuman.
Services were held on Monday, Jan. 11 at The Church of Jesus Christ of Latter-Day Saints in Hood River. Burial was at Willamette National Cemetery the same day.